Since his exit from the broadcasting empire he founded, Raghav Bahl has been moving swiftly to prepare for the launch of his mobile news service.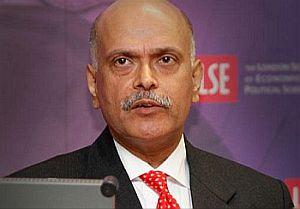 The warning tape across the glass frontage is intact but the new office in its bright primary colours and contemporary furniture - the very epitome of office chic - is up and running.
Someone is receiving explicit instructions on how to write a piece on the Delhi Police chief (no surprises, it's related to the live issue of women's safety after the Uber rape case).
Only Raghav Bahl, seated in a spare but interestingly furnished glass cabin, looks relatively under-employed.
Deceptively so, since he's aiming for a March/April launch of the quint, a mobile-first news service that will mark his Second Coming, so to speak, in the media world.
"I'm much more hands-on than before. I've started coming to office much earlier than I would and leaving much later," says the entrepreneur who exited his Rs 2,700-crore (Rs 27 billion) broadcasting empire in July this year after a controversial sale to Reliance Industries.
He adds, "I'm watching far less TV" - though a flat screen is tuned to CNBC TV 18.
No doubt there's a certain buzz because the Network 18 office is a few buildings away in this enclave of Noida's FilmCity.
In the six months since his departure from Network 18, he and Ritu Kapur, his wife, have worked briskly to put together the basic elements of Quintillion Media Pvt Ltd.
The company was incorporated in August (registration number 270795) with an authorised capital of Rs 130 crore (Rs 1.30 billion) and a paid-up capital of Rs 5.6 crore (Rs 56 million).
In September, Quintillion invested in a San Francisco-based start-up called Quintype Inc in collaboration with a Silicon Valley techno-preneur and specialist in big data and predictive analytics, Amit Rathore, to develop the technology platform for service.
Quintype's website describes it as "the next generation editorial management and digital publishing service" and says it is "focused on disrupting digital media publishing".
Quintillion is listed as "first customer and first investor" and about 16 engineers have already signed up.
Rathore had headed a tech company in which he had just sold his interest and was ready for another start-up when they met. "Coincidentally, we had just sold our stake in Network 18 and so we turned out to have complimentary interests," says Bahl.
And he is clear that technology lies at the heart of Quintillion's effort to gain its competitive advantage.
"One of our early learnings is that in the digital space, especially in hand-held devices, technology is a critical determinant - in fact, I would put the break-up at 50 per cent technology and 50 per cent content."
Both investments have been made from their own resources. "We're comfortable funding the early stage of both companies," he says.
The look and design of the offering and the logo are in the works and the morning edit meetings have begun where all comers "from Raghav to the pantry boy" are being collared for mock interviews.
Underlining her operational role in Quintillion, Kapur takes the lead in describing the broad thinking behind the focus on news on mobile, the media choice of Gen Next.
"We know that a lot of content is happening on mobile phones and also that people no longer have structured lives where they work nine to five."
"So content is being consumed all the time, smartphones are getting cheaper and better and because people have access to global content on the Net, sensibilities are evolving so that we believe people will start valuing good content over not-so-good content."
The idea is to put it out "in a vocabulary and idiom that is accessible and they identify with". Although she's guarded about details, Kapur says thequint.com will be about "news, news-plus, tech, health, water cooler stuff" that will be "very pithy, very visual, economical on text but very sharp because less text doesn't mean being frivolous or less information".
Bahl calls it "getting in the 'oh-really?' factor".
For instance, Kapur explains, on the quint dot com, the post-Budget analysis wouldn't be "the way it's done on, say, CNBC. Sure, we'll have a pocket studio in the newsroom but we'll go in for intelligent repurposing of the news flow for young people. So, we'd have one-minuters not rollathons because even 90 seconds is an eternity on a hand-held screen."
The search is on for people with "spunk" and "who can be multimedia commandos". They have about nine people now but the team will eventually scale up to 50.
There will be a website too, but in a concept called "progressive enhancement", the content will be crafted for the mobile phone and then reconfigured for the web (the offering will be in English first and a Hindi edition will be launched later).
By another name
Some things don't change and one of them is Raghav Bahl's fidelity to the number 18, which is embedded in the name of his new venture.
He can't tell you why he considers 18 lucky, it just turned out that way — and no, no astrologer advised him thus, he laughs.
But as if to emphasise his hurry to move on from his old venture, where large-scale lay-offs and shareholder disputes over a subsidiary added a sour endnote, the new name emerged 10 days after his departure and it owes its discovery to Ritu Kapur, his wife and partner in Quintillion.
Quintillion, explains Kapur, is 1018. She says she came across the name in an online edition of The Economist, checked the meaning and decided it worked because, they'd left behind a big brand, and Quintillion suggests "more power to 18".
The origin of the name for the San Mateo-based start-up Quintype is more complex.
The first syllable has a hybrid derivative: the name of a US philosopher and logician (Willard Van Orman Quine), the term for a kind of computer program (quine) and a nod to the start-up owned by its majority investor (Quintillion). The second syllable is a reference to typesetting (or "publishing stuff", as the website puts it).
The show is just starting
Considering the digital news environment is crowded, with even Huffington Post in the fray now, isn't Quintillion a latecomer?
On the contrary, Bahl reckons, "The action in the digital media space hasn't even begun. To me, it is reminiscent of television in the early nineties. There are 20 to 30 million smartphone owners in the country today. We all know this will grow to 600-700 million in three or four years, and especially once bandwidth availability opens up, as it is bound to, more people will jump in and that will deepen the market."
Like competing offerings, thequint.com's revenue model will be advertising driven because Bahl believes the concept of the pay wall doesn't yet exist in India. Can advertising sustain the business? "Indian newspapers have proven that you can survive on advertising alone," he counters, "you don't necessarily need to have cover prices that covers your cost."
Besides, he adds, there's a clear movement of advertising from TV and print to digital, and mobile is the fastest-growing component. "If you take the whole media spend market, I believe digital will climb to 30-35 per cent fairly quickly - that's huge."
Analysts confirm that digital media is the future but, contrary to global trends, internet advertising will remain a small part of the pie in India.
"Although digital advertising has been growing at a compounded annual rate of 28 per cent in India for five years, it's growing from a small base and won't be more than 16 per cent of the ad pie in, say, the next five years," says Smita Jha, leader (entertainment and media practice), PricewaterhouseCoopers. The challenge for digital news media, she adds, is not just putting your content out there but "discoverability" - promoting the platform so that consumers engage with it.
Not that Bahl is expecting a quick buck, especially given that overall ad spending has been near-flat over the past six years.
"My sense is that I'll have to take three to four years of investing. That's the case with every media business."
With about Rs 700-odd crore in the kitty from the stake sale, there is a financial cushion. But if there's a lesson he's learnt from his Network 18 days, it's calibrating growth and paying close attention to cost - "that's something you overlook as a first-generation entrepreneur".
Plus, he hopes for more luck. "For us, 2008 came at the wrong time. Our growth phase coincided with the most severe global financial crisis since 1930," he ruefully recalls. "We built a fine company but not a properly capitalised one."
Quintillion will be Bahl's major focus for the foreseeable future, though he says he'll invest in other related businesses.
He'll shortly be shifting to a corporate office under construction a floor above and Kapur will move into the cabin he currently occupies. Why didn't he just retire with his millions, like Nandan Nilekani or Narayana Murthy, and act as a venture capitalist? "It's the thrill of starting over in a new medium," he explains. "It certainly gets you younger!"
Image: Raghav Bahl (founder, Network18)
Photograph: Courtesy, Raghav Bahl/Twitter