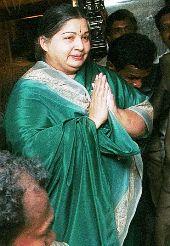 In a memorandum submitted by chief minister J Jayalalithaa to Prime Minister Manmohan Singh,  the state government said "the Central Bill on Food Security is replete with confusion and inaccuracy."

For instance, the proposed classification of target groups into Priority House Holds and General House Holds for the purpose of delivery of food entitlements will surely invite sharp criticism and furious opposition from everybody concerned.

"The very basis of such classification is unscientific and unacceptable."

Similarly, no reason has been adduced for restricting the coverage under Targeted Public Distribution System to 75 per cent of the rural population and 50 per cent of the urban population under the Bill.

Like the BPL norms proposed by the Planning Commission, the categorisation of households and arbitrary restriction of coverage as contained in the Bill will lead to controversy and make a mockery of providing food security to all.

The most significant point is that forced implementation of TPDS as contemplated under the central Bill will entail an additional financial burden of about Rs 1,800 crore (Rs 18 billion) per annum with no statutory commitment forthcoming from the Government of India, it said.
Image: J Jayalalithaa