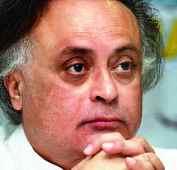 Union Minister Jairam Ramesh said on Monday a fresh list of people living below poverty line would be made available only after the tabling and study of the report of the new census based on socio-economic conditions.
"The report is expected to be submitted in January next year. It will be studied, before a new list is prepared on the basis of socio-economic conditions based on some indicators," Ramesh told reporters in Ranchi.
"Till then benefits are being given on the basis of 2002 census," he added.
He was replying to a query regarding a large number of below poverty line families in Jharkhand being reportedly left out in the BPL list.

Ramesh also assured that the Planning Commission methodology on BPL yardstick would not be implemented and its Deputy Chairman Montek Singh Ahluwalia had already clarified last week regarding the controversy generated from the Rs 32 (urban) and Rs 26 (rural areas) as the cut off mark for BPL families.

Many families would be omitted from the BPL list under that yardstick, he added.

Ramesh ended his two-day visit to Jharkhand and took stock of centrally-sponsored rural development schemes at various districts through video conferencing on Sunday.

On Monday, he went to Gumla and interacted with the locals there.

Image: Jairam Ramesh