Start 2017 with these 5 simple financial resolutions and you will put your family on solid ground financially, says D P Singh, executive director and chief marketing officer, SBI Mutual Fund.
Illustration: Uttam Ghosh/Rediff.com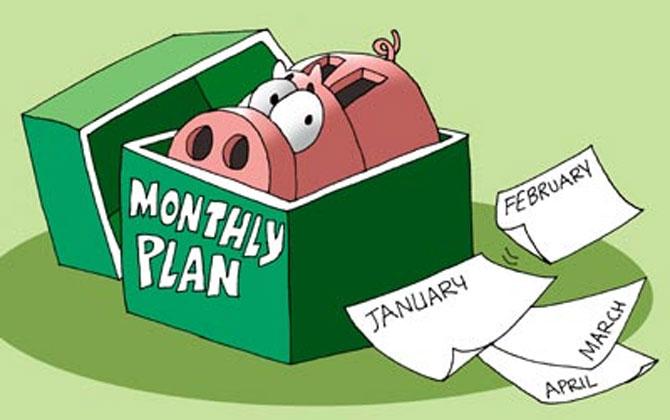 The start of a new year is a good time for taking stock of your financial status.
If you have been working for many years and yet find your investment not sufficient to secure your future, there is something amiss.
If that is the case, a new year is the good time to introspect and undertake a course correction.
1. Invest your savings
Robert Kiyosaki, author of the famous Rich Dad, Poor Dad series of books, has famously said the primary difference between those who create sustainable wealth and who fail to do so is in their attitude to saving.
The rich, he said, save first and spend later.
They also invest prudently.
They save with the objective of creating wealth.
While spending on lifestyle is a valid aspiration, it shouldn't come at the expense of your saving habit.
Here's a basic thumb rule: Save in percentage terms according to your age.
When you are 30, aim to save at least 30% of your post-tax income each month.
When 40, aim for 40%, and so on.
Once you have managed to achieve this level, don't let the money lie idle in a savings account, where it earns a measly 4%.
Invest in the best possible option, based on your risk appetite and investment horizon.
2. Think beyond traditional avenues
We tend to bank heavily on traditional saving tools, with fixed rates of returns or corpus guarantees.
In the long term, this could prove severely detrimental for your financial health.
Excessive risk aversion, especially in saving for long-term goals such as retirement, can deprive you of the benefits of compounding and inflation-beating returns that market-linked instruments like mutual funds can offer.
You have to come out of the capital-preservation mindset to the wealth-creation one.
This point is even more valid today, when interest rates on fixed deposits are falling.
While risk tolerance is an important determinant of asset allocation, investors should also consider market-linked instruments for those goals which are long-term (10 years and beyond).
A long-term investment horizon is best antidote to volatility.
An individual putting Rs 10,000 a month for 30 years for retirement in Public Provident Fund (PPF) is likely to retire with Rs 2 crore less than someone committing the same amount of money into an equity mutual fund systematic investment plan (SIP) every month, assuming a 12% compound annual growth rate (CAGR) return for the latter (is highly likely, going by the historical long-term performance of equities).
3. Map goals and SIP
Start 2017 by drafting a road map of your financial goals -- the time remaining to each goal, their inflation-adjusted target amount and the monthly savings required to achieve them.
Your children's education and your retirement is likely to top the list of important, long-term goals that you need to plan for.
Goal mapping is an exercise with tangible, long-term benefits.
Not only does it automatically align the selection of your investments with their appropriate time horizon, it also inculcates a long-term habit which ensures you don't get swayed by market movements.
Systematic investment plans (SIPs) in mutual funds are by far the best way to plan and achieve your goals.
Customise your portfolio based on the time left for each goal.
For instance, you could choose more aggressive, high-return potential mid-cap funds for a long-term goal such as your retirement, provided you have started early.
Mapping your SIPs and actively tracking their progress can greatly amplify your chances of success.
4. Step up your investments
When it comes to investing, remember that well begun is only half done.
What matters the most is a simple act of making a start in the right instruments, and resolutely stepping up savings each year thereafter, in line with the growth in income.
For instance, even if you start by investing a sum of Rs 10,000 a month for retirement this year in a mutual fund, step it up by a 10% per annum every year for the next 25 years.
You will be amazed at the difference this incremental amount makes to the overall corpus.
If you are already investing in SIPs, resolve to step these up by 10% in 2017, and every year thereafter.
5. Become a tax-saving expert
It might surprise you to learn you could be frittering away thousands of rupees annually by not utilising all the tax-saving options available to you in the most optimum way.
These amounts can add to a significant number over the course of a few years.
More important, the money you save with good tax planning (even if Rs 5,000 to Rs 10,000 a month) can be invested systematically towards achieving your life goals.
Starting 2017, make a resolve to stay up to date with changes in taxation norms, especially those affecting your savings.
Equity Linked Savings Schemes are an excellent way to create long-term wealth, while saving taxes under Section 80C.
They combine the long-term growth potential of equities with the expertise of a fund manager, while helping you get tax benefits.
Finally, if you have not prepared a will, do so at the earliest.
This will ensure the wealth that you have so painstakingly accumulated gets passed on to the next generation, in accordance with your wishes.
Start 2017 with the 5 simple financial resolutions outlined above and you will put your family on solid ground financially.
Best wishes for a prosperous New Year.