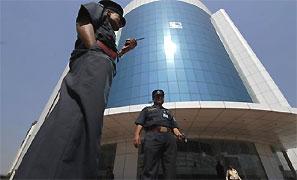 Why self-audit by NSE, why weren't charges probed under your supervision, ministry asks regulator.
The finance ministry has questioned the Securities and Exchange Board of India about its move to direct the National Stock Exchange to conduct a forensic audit on itself.
In an October 2016 letter, North Block queried the market regulator as to why the investigation on the allegation against the exchange's co-location facility was instead not done under its own supervision.
"The finance ministry has asked Sebi to elaborate on the rationale of advice of NSE to conduct forensic investigation on its lapses rather than conducting it through its technical advisory committee (TAC)," Sebi said in a note presented to its board members.
The complaints against NSE's co-location facility were discussed at Sebi board meeting held on February 11.
Based on findings made by Sebi's TAC, the NSE board in September 2016 was directed by the market regulator to initiate an independent examination of its systems and process. The exchange's board had appointed Deloitte Touche Tohmatsu India to conduct a forensic investigation.
Not just the ministry, but others too had raised an eyebrow over Sebi's decision to let NSE appoint an examiner to conduct an inspection of itself.
In December 2016, Sebi is said to have explained its stance on the issue to the finance ministry. The market regulator's reply to the ministry isn't known.
However, sources in the know say that Sebi's TAC may not have been equipped to conduct such an audit and it had to rely on third-party expert such as Deloitte.
Based on Deloitte findings, Sebi had asked NSE to make a comprehensive action plan to address the issues raised in forensic report. The action plan was also to include the fixation of accountability of employees and stock brokers for breaches.
Sebi also asked NSE to prepare a roadmap on technological and process changes required at the exchange.
"The matter is being further examined for initiating appropriate course of action in light of the findings of the expert committee of Sebi - TAC, forensic auditor and the response of the NSE's board," Sebi said in the board note.
Sebi began probing the matter in early 2015 after it received at least three complaints which alleged that certain brokers colluded with NSE's employee/outsource staff of NSE to obtain information regarding load and starting of server including back-up server.
According to Sebi, the complainant also alleged that the NSE's system set up enabled "first-to-connect" stock brokers to receive data ahead of others.
The said set-up was used for period of three year (2011-14). It further alleged that differential access in the form of "dark fibre" was given to one firm/ member at NSE in particular to connect NSE and BSE co-location at least 4-5 month ahead of other members.
Dark fibre can allow a trader a split-second faster access to data feed of an an exchange. Even a split-second faster access is considered to result in huge gains for a trader.
Sebi said that as a part of interim measure, it has directed NSE to put aside revenues in the escrow account which emanating from co-location facility.
Accordingly, NSE had transferred Rs 20.51 crore and 145.5 crore as a rack and transaction charges respectively. NSE said to have also disconnected tick-by- tick facility since December 3, 2016.
The board also took note of steps taken by Sebi in consultation with TAC to strengthen the exchange's trading infrastructure in the areas namely, fair and transparent data dissemination process, tools to monitor service quality of data feeds, mechanism to manage system load in a fair manner, direct connectivity between co-location facilities of exchange.
Sebi had received references from the members of parliament and Central Bureau of Investigation (CBI) on complaints relating to the NSE co-location matter.