Outflow from two of India's largest sectors in terms of market cap shows FPIs remain in 'sell' mode.
Sundar Sethuraman reports.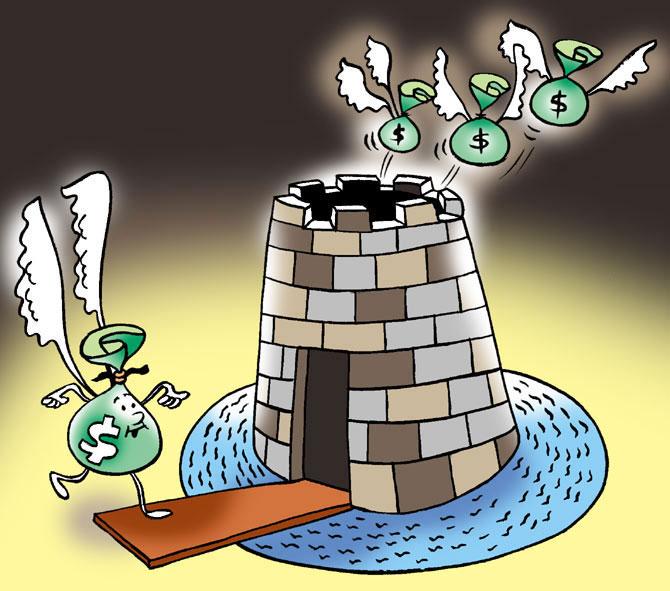 Financial services and consumer durable companies accounted for most of the selling by foreign portfolio investors (FPI) in the last fortnight of February.
FPIs sold finance stocks worth Rs 2,263 crore and consumer durable stocks worth Rs 1,111 crore, according to data collated by Prime Infobase.
Information technology (selling worth Rs 708 crore), metals and mining (Rs 694 crore), and power (Rs 497 crore) were the other sectors where overseas funds sold shares.
On the other hand, FPIs bought shares of services firms worth Rs 2,250 crore, energy companies worth Rs 1,290 crore and capital goods stocks worth Rs 1,155 crore.
Firms in the construction material and construction space saw cumulative buying worth nearly Rs 700 crore.
FPIs' selling was overall muted at less than Rs 486 crore during the last fortnight of February.
The outflow from the financial and Information Technology (IT) sector - two of India's largest in terms of market cap—indicates that FPIs remain in 'sell' mode, said experts.
"Overall, overseas investors are still taking money out. IT and financial sectors gave them an opportunity to exit with some profit or without much loss," said G Chokkalingam, founder of Equinomics, a research firm.
Buying in oil and gas stocks was attributed to the positive demand outlook on the back of China reopening.
And expansion in the Indian services sector has made FPIs bullish.
The S&P Global India Services Purchasing Managers' Index rose from 57.2 in January to 59.4 in February, its highest since February 2011.
Despite the selling, the highest sectoral allocation as of February end was to financial services at 33.81 per cent from 33.77 per cent.
IT at 11.57 per cent and the oil and gas at 10.20 per cent were other sectors with high FPI allocation.