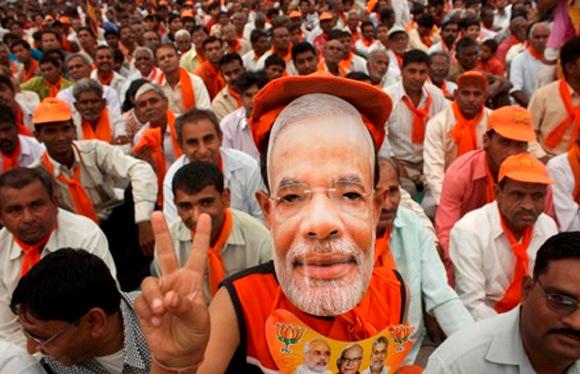 Foreign investors have pumped in over Rs 1 lakh crore in the Indian securities market since Narendra Modi was announced as the prime ministerial candidate by Bhartiya Janta Party (BJP) in September last year.
As per latest data compiled by capital markets regulator Sebi, the net investments by FIIs into Indian equity markets stood at Rs 88,772 crore since the announcement. The same for debt markets was at Rs 13,399 crore -- taking the total to Rs 1,02,171 crore.
Modi was anointed as PM-candidate by BJP on September 13 last year.
Market analysts believe that FIIs have been betting on the Indian market mainly on hopes of a stable and reforms-oriented government. The inflows are expected to surge further as the verdict met overseas investors' expectations in the Lok Sabha Polls.
"FII investments may pick up in a hurry," Karvy Capital CIO Swapnil Pawar said as Modi is set to lead the next government at the Centre after the BJP crossed the 272 mark comfortably on its own, without allies, winning 282 seats.
FIIs, the main driver of the equity market, have helped pushed up the benchmark BSE Sensex by over 22 per cent since September 13.
In 2014 alone, FIIs have infused a net amount of over Rs 74,000 crore in the domestic market, which included more than Rs 41,000 crore in equities and nearly Rs 33,000 crore in the debt.
Currently, there are 1,700 registered FIIs in the country, while the number of sub-accounts stood at 6,408.