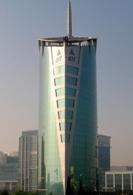 Realty major DLF has said the Income Tax Authorities have slapped additional tax notices for over Rs 1,700 crore (Rs 17 billion) pertaining to 2008-09 assessment year after being disallowed its profits in SEZ projects.
The company said it is challenging the orders with appropriate authorities and hopes that these demand notices will be revoked. SEZs enjoy tax benefits.
"Subsequent to the quarter ended March 31, 2011, the company received an assessment order for AY 2008-09 from the Income Tax Authorities, creating an additional demand of Rs 546.85 crore (Rs 5.46 billion).
"Out of this Rs 487.23 crore pertains to demand on account of disallowance of SEZ profit under section 80IAB of Income Tax Act," DLF said in a note in its annual result.
"During the year, the group had also received similar demands on account of disallowance of SEZ profits in two of its subsidiaries totalling Rs 1,156.19 crore (Rs 11.56 billion)," it added.
Without naming the subsidiaries, the company said those firms are challenging the orders with appropriate authorities.
"Based on the advice from the independent tax experts, the group is confident that the additional demand so created will not be sustained," the statement said, adding it has not made any provision for payment of these demands in consolidated financial results.
In 2009, DLF had de-notified four IT/ITeS Special Economic Zones (SEZs) in Gujarat, West Bengal, Orissa and Haryana in the wake of slowdown in office space demand. Meanwhile in a different case relating to income tax for assessment year 2006-07, DLF got a relief of Rs 409.60 crore after it had approached CIT (Appeals).
"As per this appeal order, the Appellate authority has given significant relief under the various items resulting in reducing the demand from Rs 482.74 crore (Rs 4.82 billion) to Rs 73.14 crore (Rs 731.4 million)," the company said.
DLF said it has further filed an appeal before the ITAT Delhi against the appellate's order for the remaining Rs 73.14 crore.
Meanwhile, the shares of the company were trading 4.04 per cent down at Rs 210.10 a piece on the Bombay Stock Exchange during late afternoon.