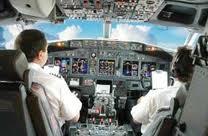 The Directorate General of Civil Aviation is in the process of hiring Flight Operations Inspectors on a contractual basis, to stave off a threat of downgrade by its US counterpart, the Federal Aviation Administration.

FAA, after audits of DGCA in September and December 2013, had expressed severe concern over the lack of full-time FOIs.

In case of a downgrade by FAA, Indian airlines will not be able to increase the number of flights to the US.

Additional checks will be imposed on existing flights of Air India and Jet Airways.

"We have hired 20 FOIs and the process will continue till we complete hiring of 65.

The annual expenditure in salaries for the recruitments would be Rs 40 crore (Rs 400 million)," said a senior DGCA official.

The body had not been able to hire full-time FOIs due to its inability to pay them market-linked salaries.

FOIs are former pilots, paid as high as Rs 1 crore (Rs 10 million) annually by airlines.

Government rules do not permit such high salaries.

Hence, the FOIs are being hired now on contract, with government sanction.

The official said the financial concerns would be resolved once the proposed Civil Aviation Authority is formed to replace DGCA.

The government had in July 2013 given in-principle approval to this proposal of the ministry of civil aviation, to set up an autonomous CAA.

The bill to establish it was scheduled to be tabled in the monsoon session of Parliament but has been delayed since.

It might not happen in the coming session, too.

The CAA is estimated to get a yearly revenue of Rs 120 crore (Rs 1.2 billion) by levying a surcharge of Rs 5 on each passenger,
charges for air navigation services and licence fees on air traffic control services.
The regulator will be empowered financially to hire its employees and decide their emoluments.
Currently, appointments in DGCA are made by the Union Public Service Commission, a time-consuming process, resulting in many unfilled vacancies.
"The total sanctioned strength of DGCA is currently 950 employees.
Nearly 30 per cent of these posts, largely in the technical cadre, are vacant.
Unlike DGCA, the CAA would have powers to recruit directly at market-determined rates, which would help address issues over shortage of staff," said a senior official at the ministry.
Besides, shortage of technical staff, the FAA raised questions on the training of employees on the various aircraft in the country.
"Our employees are trained on all types of aircraft operated by our scheduled commercial airline but the non-scheduled operators have various kinds of aircraft, which our employees were not trained in," said the official at DGCA.
To address the issue, DGCA has put in place a regulation, making it mandatory for NSOPs to train two FOIs at DGCA each time they bring in a new type of aircraft.
The official at DGCA added, "We have sought a maximum of six months to resolve all the concerns. We are hopeful that they (US FAA) will give us more time. We have a plan in place and are hopeful that we will not be downgraded."
Meantime, DGCA is sending a team of officers to Malaysia next week, to inspect and certify facilities where AirAsia India is training its cockpit and cabin crew.
AirAsia India is currently using the training facilities of its parent airline, AirAsia; it plans similar facilities in India in the coming years. The airline is likely to get clearance by end-January.