About Rs 2,000 crore of realty money has flown into stocks in the National Capital Region in the months after demonetisation.
N Sundaresha Subramanian reports.
Illustrations: Dominic Xavier/Rediff.com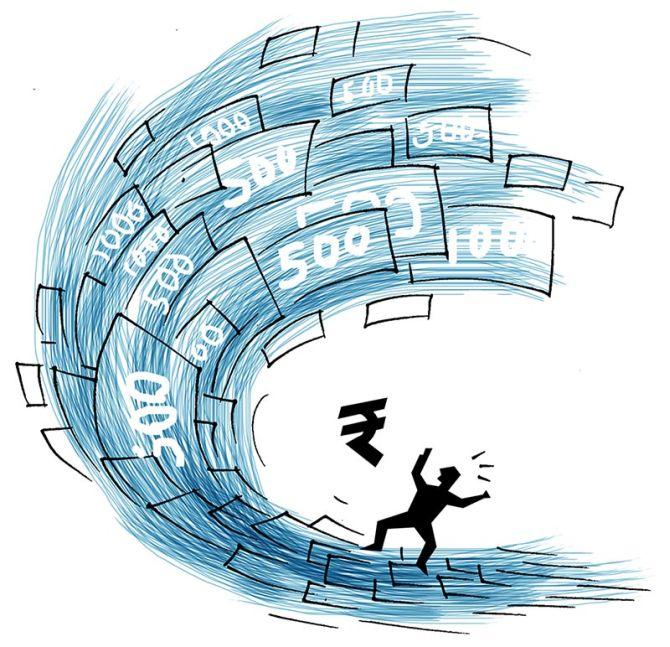 A head of research of a Mumbai-based brokerage, who was in the capital a few weeks ago, says he met a new kind of investor -- he's rich, has investible funds in crores of rupees, but has never bought stocks.
Of the 15 to 16 potential clients he met on the trip, about a dozen had made money in real estate.
"They have taken a call that real estate is going nowhere for the next three to five years. So, they are looking for opportunities in the stock market. They are eager to know various options and avenues that are available to them," the head of research said.
"Many of these clients have recently exited real estate and have funds in the range of Rs 3 crore to Rs 10 crore (Rs 30 billion to Rs 100 billion). But they have never invested in stocks before. It was a new experience because you earlier saw new investors in the market come in with much lesser funds.
"And, you didn't find it worth your time explaining the basics to them," he added.
But given the higher ticket sizes these first timers are sitting on, brokerages are willing to spare their time and top resources on these investors.
A South Delhi broker corroborates this trend, which has picked up in the last few months with the stock market hitting new highs driven by liquidity, defying concerns over bleak earnings and unjustifiable valuation.
"Three large South Delhi-based business groups have deployed large amounts of money with me," the broker said, pegging their total exposure at close to Rs 200 crore (Rs 2 billion).
In the days after demonetisation, the broker added, several business families, including developers, with large cash-based operations have moved their money to the stock markets.
"New guys have come and the existing clients have increased bets manifold. It is more a call on what returns would be available over the next three years," he said adding, "In any case, most people in the North are already over exposed to real estate."
According to some estimates, about Rs 2,000 crore (Rs 20 billion) of realty money has flown into stocks in the National Capital Region in the months after demonetisation.
A good portion of this is cash held in the form of currency notes which was converted on payment of 10 to 15 per cent charges during the note ban days.
Brokers said non-banking finance companies, which do margin funding have cashed in on the trend.
"Add the margin funding, which is typically at 50 per cent at these levels, you have exposure of close to Rs 4,000 crore to Rs 5,000 crore (Rs 40 billion to Rs 50 billion)," the broker quoted earlier said.
Karthik Srinivasan, Group Head, financial sector, ICRA Ratings, said there is not much granular data to support the anecdotal claims of rich realty investors moving to stocks.
But, he said, "Over the last couple of years, retail savings had been more towards gold and real estate. That has slowed down. With demonetisation, a lot of savings is coming into financial instruments."
Not just stocks, even mutual funds and insurance "have been growing at 20 per cent."
According to data from the Association of Mutual Funds of India, flows coming in from B-15 cities (non-metros) have gone up in the last couple of years.
"Those segments are steadily going up. You could give credit to efforts of the industry, partly helped by the environment, helped by demonetization," Srinivasan said.
Another instrument that has grown substantially from a small base is Alternative Investment Funds with commitments touching Rs 50,000 crore (Rs 500 billion).
"When you compare with the Rs 20 lakh crore AUM of MF industry, it might be small but the absolute number itself is not very small," Srinivasan said.