The Adani story has only one angle -- how the stocks were rigged up to ridiculous heights, the Hindenburg report on gross overvaluation, followed by the vertical free fall of Adani stocks, points out Debashis Basu.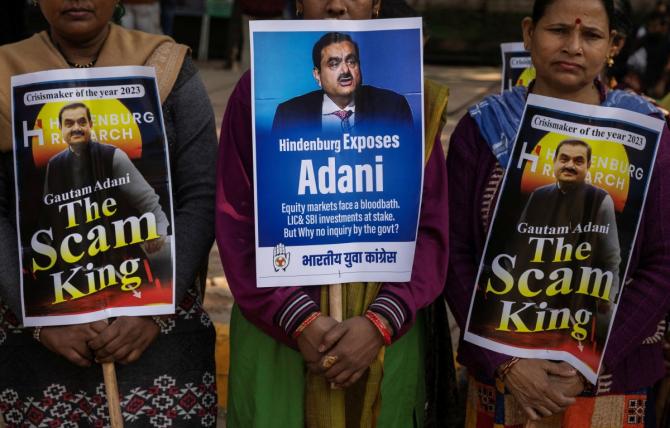 The Adani saga has drawn a variety of reactions after a report by US-based Hindenburg Research set off the rout in Adani stocks from January 25.
Angry 'nationalists' called it an attack on India.
This was followed by reams of Adani apologia from mainstream editors and reporters.
A few lawsuits have got the Supreme Court exercised.
But the core issue about the Adani saga is how share prices of the group companies rose to such extraordinary levels without any investigation or regulatory intervention.
The fact that Adani Total Gas Ltd (ATGL) and a few other Adani stocks have remained pinned to the lower circuit with no buyers in sight only confirms the central point of the Hindenburg report: All Adani stocks were insanely overvalued the day the report was released.
That price rigging is the elephant in the room.
I am not sure if most people understand the full implications of how crazily priced Adani shares had become.
Since Adani and Ambani are often hyphenated by politicians, let us compare valuations of their stocks for perspective by doing some simple numbers.
At its peak Adani Enterprises, a component of the Nifty 50, was valued at a P/E ratio of 427.
If Reliance Industries was valued at a P/E of, say, 400, its market cap today would be 16 times what it is and Mukesh Ambani would be the world's first trillionaire, with a net worth of $1.38 trillion!
And, of course, if TCS and Infosys were similarly valued, the BSE Sensex would be 8-10 times higher at 480,000 to 600,000 instead of 60,000 or so!
On the other hand, if Adani shares were valued as modestly (or correctly) as those of Tata Consultancy Services or Reliance Industries, Gautam Adani's peak net worth of $150 billion would have been only a few billion dollars.
It is only this insane overvaluation that is unravelling now.
On Tuesday, January 24, the price of ATGL was Rs 3,892, not too far from its all-time high.
Last month, it was Rs 752, a decline of 81 per cent in a month.
To the shock of most participants, day after day, several Adani companies have been locked on the 5 per cent lower circuit.
For 21 consecutive trading days, there were no net buyers of the stock, only sellers.
On February 24, about 141,000 shares were traded, but all at the lower circuit, as the buyers were swamped by a much larger group of anxious and eager sellers.
So much so that the open, high, low, and close prices of the stock were the same -- stuck at the lower circuit.
The question that many people are asking is, who is selling in such desperation?
The Adanis hold 74.8 per cent of the stock and another 17.25 per cent is held by 'foreign institutional investors' who are allegedly in the Adani camp, another 6.09 per cent is held by domestic institutional investors, leaving only 1.85 per cent in the hands of the public. So, who is selling?
That has an easy answer, but it is the wrong question to ask.
ATGL has 1,100 million shares. If the public holds 1.85 per cent, it means 20 million shares are with the public.
On February 24, just 141,000 shares were traded and remained at the lower circuit.
If the stock remains stuck at the lower circuit with such meagre selling, it can keep going down for a long time as the panic-stricken public continues to sell.
Some FIIs, who have a large holding, too could be sellers.
The question, therefore, is not who is selling, but why there are no significant buyers scooping up something that has become 81 per cent cheaper in just a month.
The dismal answer is, ATGL is still perceived to be grossly overvalued, which is the crux of the Adani controversy.
According to Hindenburg, ATGL's fair value (in accordance with industry norms of price/earnings ratio), ought to have been 97.6 per cent lower than what it was when the report was released!
That would make ATGL's fair price about Rs 100, but it is still Rs 752, even after an 81 per cent decline from the high of Rs 3,892.
Stock valuation can be influenced by a variety of factors, especially of those that are narrowly owned.
So, the Adani group stocks don't need to keep going down and hit Hindenburg's estimate of fair value.
On the other hand, Adani Power, which Hindenburg had said was only 18 per cent overvalued, has lost almost 50 per cent in value.
There would have been only raised eyebrows and no brouhaha if Adani shares found ready buyers on every dip.
But as it stands today, the Adani story has only one angle -- how the stocks were rigged up to ridiculous heights, the Hindenburg report on gross overvaluation, followed by the vertical free fall of Adani stocks.
Not how efficient Mr Adani's businesses are, whether he was favoured by the State and how hard it is to become the world's third-richest person from humble origins.
These are purely diversionary tactics and misdirected logic, designed to trivialise the main issue.
The question anyone should first ask is how the price rigging was allowed to get so horribly out of hand.
Any other discussions, questions and debate, come later.
Debashis Basu is the editor, moneylife.in