The public has benefited from this decline in crude oil, which has translated into lower prices of petrol and diesel.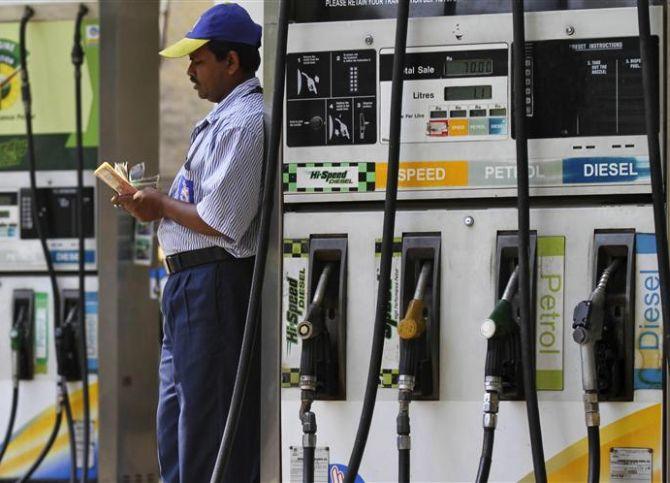 Late Murli Deora, petroleum minister in the United Progressive Alliance government, used to say kerosene oil was sold to the public at a price lower than packaged drinking water.

Those days, kerosene was priced at Rs 9 a litre, while a litre of water would cost Rs 12.

That was 2009 and kerosene price was artificially kept lower as a populist measure by offering heavy subsidy.
With the Indian basket of crude oil falling to below $30 a barrel last week, a litre of crude oil now costs about Rs 12 (approximately), lower than packaged water's price of Rs 15 a litre.

Last Thursday's closing of $29.24 a barrel was the lowest in a decade. In rupee terms, this translates to Rs 1,956.65 (exchange rate of Rs 66.91).

Crude oil price has declined by 70 per cent since June 2014, the first full month of the Narendra Modi-led government at the Centre.
A barrel consists of 159 litres and at its last available price of Rs 1,956, a litre would cost Rs 12.3.

The Indian basket represents published freight on board prices of average of Oman/Dubai crude for sour-grade and Brent for sweet-grade in the ratio of 72:28.
India meets 80 per cent of its crude oil requirement through imports. A CLSA report last month said low crude oil price, if sustained, could add $60 billion to the country's gross domestic product. In the first eight months of FY16, the value of India's crude oil import declined 43 per cent to $61 billion against $107 billion in the corresponding period.
The public has benefited from this decline in crude oil, which has translated into lower prices of petrol and diesel.
Diesel price decline also benefits a number of user industries while airlines have gained from a decline in aviation turbine fuel.
Since June 2014, oil marketing companies have reduced petrol prices 21 times while diesel has been reduced 17 times. The prices of both these fuel are down by around Rs 14 a litre.
But, all the gains have not been passed. Part of the decline has been adjusted by increases in excite duty on petrol and diesel. There has been three such increases in the current financial year.
In FY15, the government had increased duty four times. "In case prices rise in future, we always have the flexibility to offload excise duty. So, this has been planned as a shock absorber," minister of state for petroleum and natural gas Dharmendra Pradhan told Business Standard in an interview last month.