'While most companies were bullish before the second wave of double-digit sales growth in FY22, that may not be the case now.'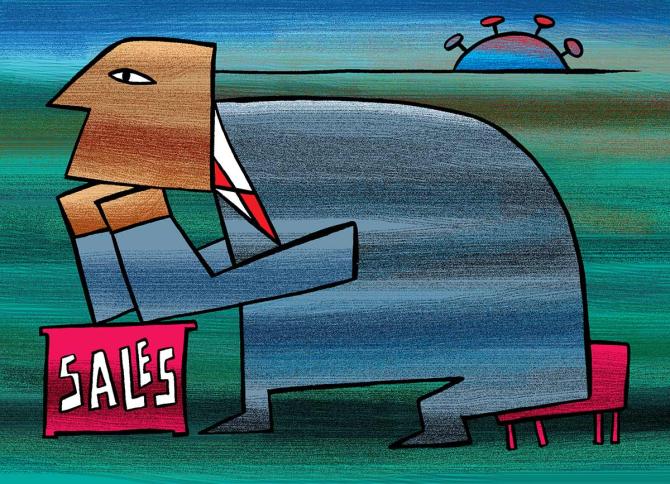 Companies manufacturing automotive, durables, and fast-moving consumer goods remain largely cautious about their sales growth outlook for FY22.
The reason for this tempering of their forecasts revolves around concern about a third COVID-19 wave, weak consumer sentiment, and commodity inflation, which has pushed many firms to increase product prices.
There are outliers, however, such as Bajaj Auto, Mahindra and Mahindra and Dabur, which remain bullish about a rebound once the lockdowns are lifted.
But the broad consensus among most other firms is that growth would be modest in FY22, given the economic challenges in the wake of the second Covid wave.
"The outlook remains uncertain," says Mayank Shah, senior category head, Parle Products.
"A lot will depend on how the economy opens up. While most companies were bullish before the second wave of double-digit sales growth in FY22, that may not be the case now," says Shah.
"This is linked to the impact of the second wave plus the pace of vaccination, which is slow at the moment. If the pace improves, then, yes, the outlook could change," Shah adds.
The central bank has cut its economic growth forecast for FY22 to 9.5 per cent from 10.5 per cent projected earlier, joining economists at State Bank of India, Moody's, Barclays and the Organisation for Economic Cooperation and Development, who have done the same thing in the past few weeks.
SBI's slash though was the sharpest of the lot at 7.9 per cent from 10.4 per cent projected earlier, saying the recovery in FY22 would be marred by two troughs.
'Our analysis shows a disproportionately larger impact on the economy due to the second wave. Given that rural is not as resilient as urban this time, the pick-up in demand will be modest,' SBI said.
Kamal Nandi, business head and executive vice-president, Godrej Appliances, said he did not see the situation this year worsening from last year.
"Consumption in semi-urban and rural areas has been impacted because of a surge in infections during the second wave. We may see a drop in consumption in these parts versus last year. However, consumption in metros and Tier I towns should be higher than last year," Nandi says.
Dabur CEO Mohit Malhotra anticipates a V-shaped recovery, saying the rebound will be sharp once lockdowns are lifted by July.
Some experts are cautioning that haste in unlocking the economy should be avoided, given the changing nature of COVID-19.
The Maharashtra government, for instance, did a volte-face regarding its unlock programme, saying its five-phase re-opening exercise would be undertaken cautiously after taking into account all factors.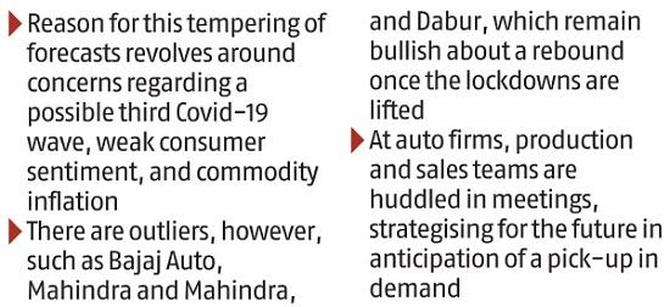 Maharashtra contributes 14.2 per cent to India's nominal gross domestic product, the highest among all states, according to its Economic Survey for FY21.
So unlocking would have to be done slowly, government sources said.
Meanwhile, production and sales teams at most car companies in India are huddled in meetings, strategising for the future in anticipation of a pickup in demand once the lockdowns are lifted.
With states following a graded approach to opening after a 45-day stringent lockdown, auto firms are planning a steep ramp-up in volumes in June and July. Many are treading with caution though.
According to people aware of the plans, car market leader Maruti Suzuki India intends to make 160,000-170,000 cars this month against 45,000 it made last month.
Shashank Srivastava, executive director, sales and marketing, admits that the "fear" among people this time around is more than in the first wave.
It doesn't help that rural India, which accounts for 40 per cent of Maruti's sales, is also in the grip of the pandemic.
<p" class="rbig">"While the fundamentals of the rural economy will remain strong due to the forecast of a good monsoon, the overall sentiment will drive sales," Srivastava says, hinting at a likely weakness in rural demand as infections rise in the hinterland.
"The consensus estimate for passenger vehicles in India for FY22 was 3.1 million-3.2 million. In FY21, it was 2.7 million. In FY20, it was 2.77 million. The peak was FY19 at 3.3 million," adds Srivastava.
"Now with the expected poor Q1 in FY22 and the uncertain Covid situation, the industry can expect to be much below 3.1 million."
Credit rating agency ICRA also pointed to a hit on disposable incomes and rising vehicle and fuel costs for a cut in sales growth estimates for domestic passenger vehicles.
The rating agency said it saw a growth rate of 17-20 per cent now versus a 22-25 per cent expected earlier.
Tractor and utility vehicle major M&M said a demand rebound would remain under pressure from a global chip shortage. It, however, remained optimistic of the future.
'We are ramping up production and we believe there will be a strong rebound as we get out of lockdowns in June-July,' Executive Director Rajesh Jejurikar said in an earnings call.
Feature Presentation: Rajesh Alva/Rediff.com