The year gone by has also forced all airlines to turn the lens sharply on their own costs, workings and internal dynamics, opening their eyes to their vulnerabilities.
Fewer, leaner, nimbler players will emerge from the carnage.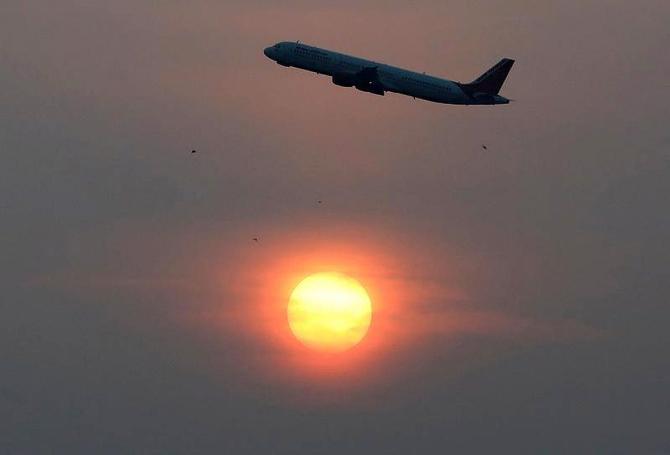 Humpty Dumpty sat on a wall
Humpty Dumpty had a great fall
All the king's horses and all the king's men
Couldn't put Humpty together again
The words of this nursery rhyme perhaps best describe the current predicament of the Indian aviation sector.
The year 2020 has pulled the carpet from under the industry's feet, and air travel, and even the passenger, may never be the same again, requiring the industry to reinvent itself from scratch.
How individual players and stakeholders fare will be known only later, but certain discernible good, bad and ugly facts and trends have emerged as we say goodbye to aviation's worst year in history.
The Good
India's burgeoning population of 1.38 billion has often been lauded and cursed in equal measure.
But never before has India's population seemed as much of an advantage when it comes to the country's aviation sector.
As the world's airlines struggled in the face of its biggest crisis ever, countries with a domestic base have emerged relatively unscathed through this inferno.
With the global scheduled flight stoppage, airlines of countries with no home market to speak of, such as those in Singapore, Dubai, Abu Dhabi and Hong Kong, have taken the most severe beating.
On the other hand, as things normalise, countries like India, which have a large domestic base, are seeing faster recoveries.
For many of the city state carriers, there appears to be no light at the end of this tunnel, and bailout packages have been the order of the day.
The year gone by has also forced all airlines to turn the lens sharply on their own costs, workings and internal dynamics, opening their eyes to their vulnerabilities.
Fewer, leaner, nimbler players will emerge from the carnage, according to aviation industry observers.
As to which of the existing players will survive a year down the line, opinion is divided.
Industry veteran Shakti Lumba, known for his plain-speaking, thinks airlines like SpiceJet that are "all over the place" and "lack the discipline to stick to their core business plan" have a lower chance of staying in the game.
Others say that Mumbai-headquartered Go Air, run by the Wadia group, will succumb to its poor, haphazard management even though it may have many other things going for it.
The Bad
The pandemic has brought home one fact — all those people, whizzing around in aircraft to clinch deals can easily sit at home or in their respective cities and clinch the very same deals.
Hence, business travel is likely to shrink more than anything else.
Some airlines in India were already struggling to extract a small premium out of this segment, but the Covid-19 crisis is likely to put paid to those efforts.
Not only will people travel less on work but few companies will be willing to shell out a little extra for anything.
"Airlines like Vistara will have to redefine themselves completely.
"Jet's closure had already put a massive cloud over the viability of full-service airlines in India. This caps it," said a former aviation secretary.
In general, the aviation landscape is likely to be redefined post the pandemic, with point-to-point travel being preferred over stops and changeovers.
Traffic patterns are likely to change and airlines will have to be quick to adapt.
The Ugly
An ugly side of the airlines and their failure to support their staff in times of distress has been highlighted during the pandemic.
Go Air in particular, despite having access to the Wadia financial backing, decided to stop paying its staff as soon as the pandemic hit and flights were suspended.
Go Air's "inhumane" approach has been intensely discussed, adding further pain in a sector wracked with failures for some years now.
Many senior airline professionals have been dislocated and have left India after the spate of failures.
This is also true of the national carrier Air India, where pilots and other junior staff have been forced to face the brunt of the cuts while the top management has continued to protect its own interests.
Pilot and crew unions and office bearers say that they feel "let down" by the disproportionate pay cuts instituted by the top management and its high-handed approach.
The poor handling has left the employees more divided than ever before.
The pandemic has also revealed the lack of adequate capitalisation and wafer-thin bank balances.
In some instances, many allege a "fly-by-night" approach that some players in India appear to have adopted.
"The vulnerabilities of airlines in India have been exposed sharply and the gaps we need to cover are staring us in the face", says CAPA CEO Kapil Kaul.
The billion dollar question is whether the airline industry will learn from it.
Photograph: Amit Dave/Reuters