However, the company says it will suspended promotions and salary increments this year.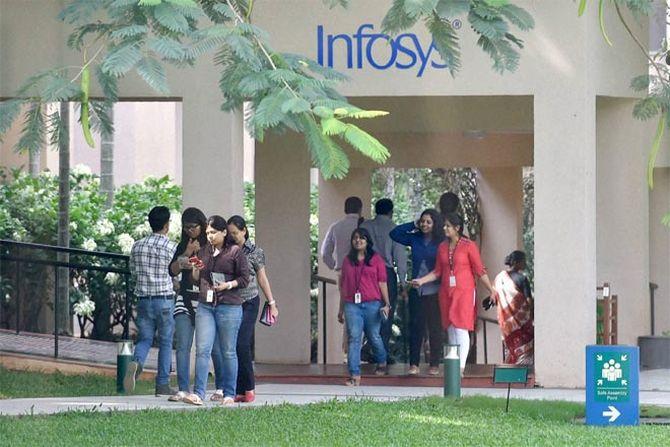 Infosys on Monday said it had suspended promotions and salary increments for employees this year, with an eye on cash conservation, to tide over the uncertain business environment.
However, the company also plans to hand out 35,000 new offers in FY21 - including freshers and lateral (people with prior work experience) hires.
The Bengaluru-headquartered firm also said there would be no COVID-related lay-offs and it would honour all commitments made through campus offers.
"In terms of hiring, we will honour all our commitments in terms of campus hires and laterals.
"There will be no COVID-related lay-offs. However, involuntary attrition that is performance-based (will go on)," said U B Pravin Rao, chief operating officer of Infosys.
"Obviously, we are not looking at furloughs. But we are also looking at other things to optimise cost."
As far as joining of new hires is concerned, Rao said the on-boarding of freshers would be staggered while the same was an on-going process for laterals. Infosys had handed out 40,000 offers in FY20.
Tata Consultancy Services and Wipro have also announced that they will not give any salary increment or promotion this year, owing to business uncertainties.
Regarding the reduced staff count and sequential rise in attrition rate, Rao said: "You should not read too much into it (drop in headcount).
"Because of Covid, we saw improved utilisation, because of which we deferred joining dates of some new recruits."
In Q4, the employee utilisation rate stood at 83.5 per cent (excluding trainees), against 84.4 per cent in Q3FY20.
The firm expects this to rise in the coming quarters, as it decides to freeze hiring.
"As people (expenses) constitute a major part of our costs, you will see utilisation levels rising in the coming quarters.
"We have taken many no-regret moves such as salary freeze and holding of promotions.
"We are also cutting down unnecessary discretionary expenditure," said Nilanjan Roy, chief financial officer of Infosys.
Photograph: PTI Photo