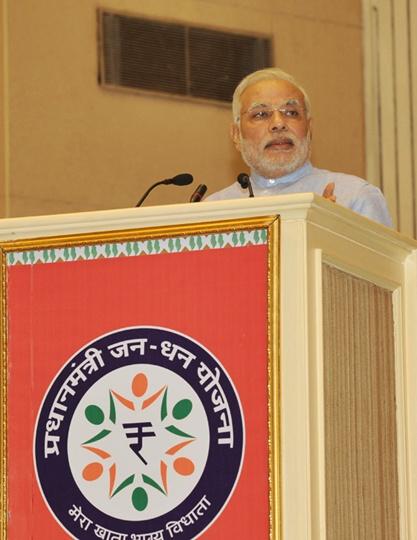 Like Indira Gandhi, even Narendra Modi seems to be relying on directing public-sector banks through ministry of finance supported by party cadres, says Debashis Basu.
Narendra Modi's biggest project so far is Pradhan Mantri Jan Dhan Yojana (PMJDY), an aggressively promoted idea to open bank accounts.

The English media ran full-page ads and TV commercials to announce the scheme that is supposed to reach largely rural households.

It seemed bold, new - almost pathbreaking. Mr Modi claimed that the scheme has performed a miracle or sorts - a massive mobilisation effort over just two weeks to achieve a feat never attempted and achieved. The mobilisation drive is unprecedented, but is the scheme pathbreaking?
The Reserve Bank of India (RBI), ministry of finance and public-sector banks have been trying to do forcible financial inclusion for years now, on which many bright minds and hundreds of crores have been spent.

Meanwhile, the government allowed a whole new business segment to come up - microfinance. Microfinance companies have tried to replace the moneylender with an only slightly less usurious business model, funded by venture capital and even the stock market.
The PMJDY has no truck with the learnings from any of this. People who have worked in the area of financial inclusion for years have not been seen or heard so far in this mega plan of forcible financial inclusion.
I guess the babus know everything. They only need to whip the public-sector bankers to get things done.
But, even in design, is the PMJDY something new? Let's look at some of its features.
One account per household: Earlier efforts did not target households, we were told in June and July. But read this: "Banks have been advised that the service area bank in rural areas, and banks assigned the responsibility in specific wards in urban areas, ensure that every household has at least one bank account." This is not from the Jan Dhan scheme document, but from a one year-old document by the finance ministry. Targeting households is an old idea.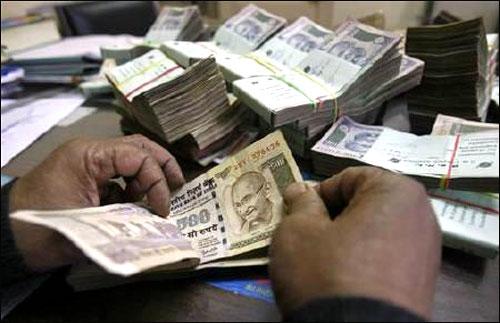 Mobile banking: A second aspect of the project is using mobile banking. Here is a quote from the same 2013 document. "National Payments Corporation of India (NPCI) has worked on a 'common USSD platform' for all banks and telcos who wish to offer the facility of mobile banking using unstructured supplementary service data (USSD)-based mobile banking ... USSD-based mobile banking offers basic banking facilities like money transfer, bill payments, balance enquiries, merchant payments, etc, on a simple GSM-based mobile phone, without the need to download application."
Mobile banking is not new, too.
Direct benefit transfers (DBT): According to media reports, what drew a lot of unbanked people to the PMJDY was the worry that that they won't get government benefits if they didn't have a bank account. This was a major incentive to open bank accounts. Is this new?

The DBT scheme was launched in January 2013 and was being rolled out in phases. Thereafter, the government started the transfer of cash subsidy for domestic LPG cylinders to Aadhaar-linked bank accounts from June 1, 2013. And what is the cornerstone of all this? Bank accounts.

Here is what the 2013 finance-ministry document says: "Banks play a key role in implementation of DBT and this involves three important steps." These are the opening of accounts; the seeding of bank accounts with Aadhaar; and undertaking funds transfer using the National Automated Clearing House-Aadhaar Payment Bridge System. Sounds like everything that the PMJDY will be doing? Already laid down in 2013.
Banking reach: The government had issued a detailed guideline on financial inclusion back in October 2011, advising banks to open branches in all habitations of 5,000 or more population in under-banked districts and 10,000 or more population in other districts.

Out of 3,925 such identified locations, branches have been opened in 3,402 by end of April 2013. All the 129 unbanked blocks identified in the country in July 2009 had been provided with banking facilities by March 2012, according to the finance ministry.
Clearly, the PMJDY relies on a lot of work and thinking done over the years. If this work is largely useless, Jan Dhan will not work either.

If this work was useful, we must still look for what is new in this scheme. Here are six new aspects of Jan Dhan: accident insurance cover; life insurance cover; overdraft facility; higher incentive for banking correspondents; removing the RBI from monitoring; and, of course, the emergence of Mr Modi.
Adding insurance is an obvious feature, which has been tried with other banking products and even with microfinance. The reason it has not been at the centrepiece of a no-frills account for the unbanked is that it involves costs and delivery issues. It was (and still is) unclear who will pay the cost.

The overdraft is another cost with uncertain benefits for banks and so was never pushed hard. Banks have been using business correspondents since 2006 for greater financial inclusion. Jan Dhan has increased their compensation - but where will that money come from?
That brings us to the two last new factors. Removing the RBI from the scene is a positive. It is bloated, unaccountable and bureaucratic. It does not even properly collect the data essential for informed policies. But that itself will not mean a big success of Jan Dhan.
Finally, the propagandist orientation of Mr Modi is a positive for any large scheme.

But then, like Indira Gandhi, even Mr Modi seems to be relying on directing public-sector banks through ministry of finance supported by party cadres. How new is that? Time will tell.