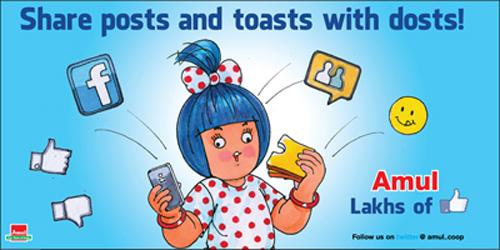 Content marketing is perhaps part of the tectonic shift that is under way in media with the advent of the web, says Ajit Balakrishnan.
If you say you haven't yet heard about "content marketing", it is like saying you haven't heard of a tweet, a blog, or a web page.
Summon your marketing head, and test him by asking what he is doing by way of content marketing for your widget manufacturing company, media house, non-governmental organisation, or government programme - and if he returns a blank stare, you had better start worrying. Content marketing is all the rage in the marketing world. Seth Godin, the marketing guru, goes so far as to say that content marketing "is all the marketing that is left".
Content marketing is when, for example, Kraft Foods - who make stuff like cheese and dressings - provide on their website and/or through a print magazine, "Recipes for Stress Free Entertaining". That is to say, when an advertiser provides additional information that helps the user make the best use of his products and services, but presents it in a balanced way.
Content marketing's main avatar is "native advertising". Native ads are those colourful strips that you may have noticed at the end of articles on some websites. They come with titles such as "3 Best Body Workouts for Females", a click on which leads you to a web page with tips for the most effective way to do exercises like squats and push-ups, and gently prods you to sign up for a newsletter to get more tips every week.

This native ad could be from a physiotherapy medical practice, or from the website of a health magazine. Native ads look and feel like editorial, but have subtle commercial messages embedded.

The advertiser's intent, says Wikipedia, in its definition of native ads, "is to make the paid advertising feel less intrusive and, thus, increase the likelihood users will click on it. The word 'native' is used to refer to the formatting of the advertising materials to make them appear more consistent with other media in the recipient's universe".
Some businesses have been doing things like this for years. Stockbroking firms put out "research reports" that subtly promote active trading with them by profiling some companies or some industries. Technology provider firms have for years been putting out "white papers" that describe in a serious and fact-filled way how to get the best out of their products and services.
If all this makes you wonder whether native advertising is a new euphemism for what used to be called advertorials - and, in reality, are just paid ads that are designed and packaged to be disguised as independent editorial content - you may not be the only one.

The Federal Trade Commission of the United States weighed in last December with a day-long hearing to figure out whether to or how to regulate native ads on digital publishers' sites; the thrust of the enquiry was whether such advertisements amounted to "deceptive acts or practices".

The workshop, called "Blurred Lines: Advertising or Content?", focused on whether publishers and advertisers are doing enough to keep consumers from mistaking native ads for the content itself. The hearings did not reach any definitive conclusion, but served to shine the spotlight on this new marketing practice.
The platforms on which content marketing is executed can be blogs, webcasts and podcasts, magazines, websites, microsites, online communities, social media, events, newsletters, videos, or even mobile apps. It is just that the focus is changing to "owning" media, not temporarily "renting" it as when you pay for a TV channel to run your TV commercial or for a newspaper to run your print advertisement.
Content marketing is perhaps part of the tectonic shift that is under way in media with the advent of the web. For example, in India, the destinations that internet users go to mostly for their information needs are not websites run by the recognised print, TV, or even internet media brands, but to blogs.

This past July, more than 40 million Indians went to blogs, whereas mainstream TV and print brands and all but a handful of internet enterprises on the web got typically a million or so visitors each, according to ComScore, the entity that measures such things.

Blogs make no pretension to "objectivity". They are often "opinion" pieces, but they tend to be written by people who are experts on a topic - or are, at least, insiders who know a thing or two firsthand about the things they write about.
For the past decade, the banner ad, a concept borrowed from print and outdoor advertising billboards, has been a staple of web advertising; perhaps native ads and content marketing are the real children of the web era.
Ajit Balakrishnan is the author of The Wave Rider, A Chronicle of the Information Age.