India, in fact, sees the highest drop in representation of women from junior to middle-level positions, says Shyamal Majumdar.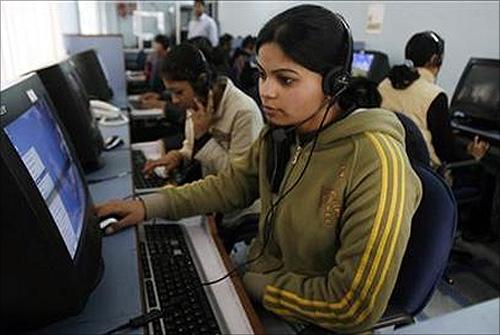 The observations made in the Monster Salary Index report on India's gender pay gap have few surprises, except that the gap is as much as 34 per cent in the information technology (IT) sector, which is supposed to employ relatively better-skilled people.

What is even more alarming is that the pay gap in this sector has increased from around 29 per cent a year earlier.
Many lay the blame on mindset issues in India Inc's C-suites: several institutions prefer male employees over female employees and promote a higher number of male employees to supervisory positions even though there is hardly any evidence to suggest that a woman will compete less than a man if the right cultural incentives are in place.
But that's only part of the story. Companies say such gender pay gap exists because of divided work-family loyalties, as women take more time off from work to care for their families, leading to long career breaks.

By the time they return to the job market, they have often missed the bus.

Evidence exists that women lose out through voluntary termination of service at a rate two or three times faster than men once they have attained the experienced, mid-career level.
India, in fact, sees the highest drop in representation of women from junior to middle-level positions, unlike several other Asian countries where such a drop occurs from middle- to senior-level positions.

For example, an analysis done by ICICI Group showed that at junior management levels in ICICI Bank, the representation of women in attrition is around two per cent higher than their representation in the total grade population.

In other words, if at these levels, women constitute 25 per cent, then their representation in attrition is 27 per cent.
This, in turn, impacts the supply line for higher levels. Data also showed almost one-third of women employees have not resumed work in the absence of a support system at home to take care of the child.

This, in turn, disproves the hypotheses that organisations have any control over women's decision to exit/re-enter the workforce.

Flexible work policies or extended leave can, at best, be a minor enabler for those who possess career aspirations in a situation where close to 78 per cent of eligible female graduates choose not to participate in the organised workforce.
This is reflected in the fact that India has one of the lowest female labour force participation (FLFP) rates - typically measured as the share of women who are employed or are seeking work as a share of the working-age female population - among emerging markets and developing countries, according to an International Monetary Fund working paper published last year.
At around 33 per cent at the national level in 2012, India's FLFP rate is well below the global average of around 50 per cent and East Asia average of around 63 per cent.

An FLFP rate of 33 per cent implies that only 125 million of the roughly 380 million working-age Indian women are seeking work or are currently employed.
To be sure, India is certainly not an exception as far as gender pay gap is concerned.

The Economist quoted an analysis done by Korn Ferry, which looked at employees in 33 countries and found that on average, women earn 18 per cent less than men, which is of course higher than the 27 per cent overall industry pay gap mentioned by Monster India.

Korn Ferry, however, had an interesting highlight - that the United Arab Emirates has a reverse pay gap.

Women at the same level, company and function actually earn two per cent more than their male counterparts partly because fewer women (13 per cent) participate in the labour force, and those who do tend to have higher levels of education.

This makes the continued high pay gap in the Indian IT sector even more intriguing.
Consider the US. It's well known that for every dollar a man makes in the US, a woman earns just 78 cents for doing the same job.

Catalyst, a US-based research group, has said it would take 70 years for there to be as many women as men on the boards of the largest US companies at the pace at which women are getting such positions.
It seems the world is united as far as gender pay gap is concerned.