Mr Trump doesn't watch Indian TV so he missed breathless coverage of Davos talk-fest that suggested that people talked only about potential El Dorado that is India, says Kanika Datta.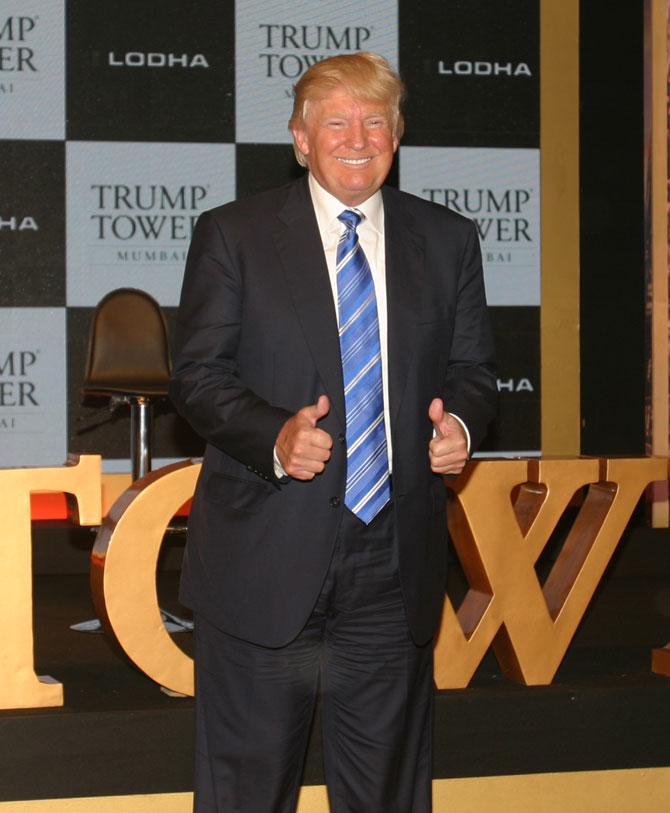 So there we have it. Donald Trump, who can safely be described as the greatest maverick to make a run for the US presidency in the 21st century, finally makes a pronouncement on India. "India is doing great," he told CNN, but "nobody is talking about it".

Obviously, Mr Trump does not watch Indian TV so he missed the breathless coverage of the Davos talk-fest that suggested that people talked only and exclusively about the potential El Dorado that is India.
No doubt the reference to India was part of the Republican candidate's belated outreach to the instinctively conservative Indian-American community, the same sort of people who turn out in their adoring thousands to fete Narendra Modi on his US visits.

But Mr Trump's endorsement is a compelling reason Indians waiting for the Turnaround that is Just Around the Corner shouldn't take him too seriously.
Let's suppose, for instance, that as a savvy, self-made billionaire - Mr Trump's own expensively crafted persona - he puts his money where his mouth is.

If you were listening to the CNN interview at which he made his pronouncement, you'd be forgiven for thinking that's exactly what he's done. "I've got big jobs going up in India," he said in a careless aside.
What are these "big jobs"? The interviewer didn't ask-but everyone in the real estate world knows. One is a garish 75-storey gold and glass Lodha The Park Trump Tower coming up in Mumbai's Worli district offering three- and four-bedroom apartments of over 2,000 square feet at between Rs 7.05 crore and Rs 8.44 crore (at least, that's the rack rate quoted on the website).

The second is Trump Towers Pune, which its website describes as "two striking glass façade towers of twenty-three stories each, offering forty-six spectacular single-floor residences."
The thing is, they're not strictly his "jobs". As with his business model around the world, these over-the-top properties are being constructed by local Indian developers-Lodha in the case of the Worli complex and Panchshil Realty for the Pune complex.

Both developers will pay Mr Trump's company a licence fee to use his brand-name (and of course follow a construction template). Neither involves any skin in the game from The Donald.
These projects represent Mr Trump's second attempt to enter the India market-a similar arrangement with another local realtor in 2010 fell through.

Mr Trump explained that away as bad market conditions. In August 2014, perhaps infected by the same early euphoria that afflicted the business community after the Lok Sabha elections, he said he was confident things were turning around.

Still, when asked, he did not detail investment plans for India. Nor has he cared to do so any time since.
We know Mr Trump can't open his mouth without saying something zany, however unwittingly. On that particular trip, he also said real-estate prices in Mumbai were "unbelievably low".

This comment is hilarious by any standards and especially when it comes from someone like Mr Trump, with his trumpeted knowledge of global realty.

As a sharp assessment by Sunainaa Chadha in Firstpost put it at the time, "Either he does not know, or he is pretending not to know, that Mumbai's property is high cost because of artificial restrictions on land supplies by politicians and businessmen... And as for low prices, that's a laugh. Mumbai is actually the sixteenth most expensive place in the world to own prime residential property."
Even assuming the best-case scenario - that Mr Trump knows what he is talking about at all times - his comment is a good example of why it is inadvisable for businessmen to dabble in politics.

Like former Vice President Dick Cheney, he has demonstrated that his world view is circumscribed by the ambit of his business interests. In Mr Cheney's case, it was his former association with oil field services company Halliburton, which played such an influential role in inflicting lasting damage the geopolitics of West Asia.

Mr Trump, who leads the 2016 Republican primary with a 41 per cent approval rating, tends to see the world through the eyes of a self-made premium realtor with a penchant for interpreting rules creatively.

He struggles with the subtleties involved in public policymaking - or even just in public speaking - so evident in his comments about women, tax cuts, immigrants and Muslims.

That is why he has had no problem extending his lucrative licensing arrangement with some less-than-salubrious businessmen in West Asia-and even some of them thought fit to terminate agreements with him after his derisive comments about Islam.
So when Mr Trump says India is "doing great", his frame of reference is the real estate market.

From that perspective, he's right; realty prices in Indian cities in general and Mumbai in particular may not be "unbelievably low" yet, but they have been languishing alarmingly, an unofficial bellwether of the state of the Indian economy. That's why nobody is talking about it.