The link between oil exploration and markets can be used by India to great advantage, notes Anil K Jain.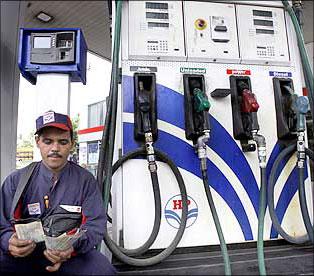 International oil prices have fallen by nearly half. A large part of the globe is celebrating, while a small part, mainly OPEC countries, is unhappy. Overall, this is good for the world.

By a rough reckoning, the drop of $50 per barrel translates to a one per cent boost to global GDP. The Indian economy is also witnessing all-round buoyancy, some of which is attributable to softened crude prices.

The bCPI inflation rate has fallen by half since November 2012, the current account deficit has been tamed (just above one per cent of GDP) and GDP growth rates are soon expected to better China's.
Both IEA and IEF have chosen Delhi as the venue of important international events in April. What real promise does this hold for India's oil and gas sector? The latter has posed challenges for decades, with large (and rising) import dependence and volatile prices.

Are we going to fritter away the opportunity to attempt bold transitions that soft energy prices make possible?

A drop in fuel price encourages consumers to make more efficient choices (oil to gas, LPG to piped natural gas), and allows policy makers to direct investments to enable these.

Policymakers must seize this opportunity to lay the foundation of an energy-secure India. Some options in the oil and gas sector are discussed here.
The journey of oil and gas begins with exploration. The flip side is that lower price means less exploration.

Oil majors are scaling down their E&P budgets, and OPEC would be happy if high-cost production gets choked off, and the resultant tightened supply helps price to bounce back. In this price and production debate, what is there for India?

We are a large importer and are under-explored. This makes us an attractive destination for exploration. Oil supply now exceeds demand. India is a large oil market, and oil demand is likely to keep growing, perhaps fastest in the world.

The link between oil exploration and markets can be used by India to great advantage. We ought to leverage our large buying power, and offer our market as the 'prize' for domestic oil production.

A quick decision on the exploration contractual regime - production sharing or revenue sharing - could attract oil majors to explore India's sedimentary basins. India has long wooed them unsuccessfully to undertake green-field exploration.

Now is the opportunity to leverage our market to kick-start E&P, which has slowed down in the last few years. The last NELP round was launched five years back in 2010.
Moving 'downstream', aided by cheap oil, India could fix its transport-related emissions. Vehicular emissions may not be the only culprit responsible for deteriorating air quality, but fuel standards are definitely a part of the solution.

We have not been able to progress much after achieving BS-IV grade fuel in 2010, principally due to poor economics in the fuel business. The oil companies were losing money in marketing diesel, and were just not interested in investing.

As per one study, capex of $4.5 billion is needed in the refining sector for India to leapfrog to Euro VI grade, which can reduce the sulphur content from above 50 ppm to 10 ppm. With market-determined diesel/petrol prices, the oil sector can now 'fast-forward' the above upgrade.

The same study estimates that a price hike of 50 paisa per litre could help recover the above capex, with the caveat that this decision would also impact vehicle prices through engine upgrades. But, reduced fuel prices offer the best opportunity to maintain overall consumer sentiment for fuel upgrades.
It is the natural gas sector which offers the bigger 'prize' in an era of low crude prices. The latter has also resulted in cheaper LNG, simply because of the crude price link in most gas price formulae.

While the share of gas in global primary commercial energy consumption is 24 per cent, it is a mere eight per cent in India. Gas is cleaner, cheaper and more abundant than oil. With a 30 per cent share of oil in our energy mix, we need to reduce its consumption by substituting gas for it.

Without imported LNG the share of gas cannot grow, as there is a bleak outlook for domestic production of gas in the short term. Spot LNG prices are below $5 per mmbtu, from nearly double this some years back, and natural gas could be encouraged over liquid fuels.

This is the perfect time to launch city gas distribution projects (piped and compressed natural gas) across urban India. Such a move will help combat air pollution, and also spare LPG for villages, where solid biomass is the staple cooking fuel, with accompanying large health implications.

At one stroke, multiple national objectives can be met. CNG (and PNG) is being marketed in just fewer than 100 cities, whereas the Twelfth Five-Year Plan had envisaged extension to 300 cities by 2017. This 'big bang' reform in the downstream sector can only happen if it is not fiscally onerous on the government and the consumer, an opportunity the low crude price has presented before us.
One question arises: will crude prices remain low long enough for the above reforms to be rolled out? What if prices sprang back? One doesn't need to be an expert to respond to the above - global oil demand-supply imbalance has too many moving parts, and will take time to stabilise.

Industry experts agree that crude production levels are not amenable to 'shutting-off and-on'. The developed world migrated to efficient energy pathways (earlier electrification, and later uptake of natural gas) as positive choices, without waiting for energy prices to slump.

For India, an opportunity has presented itself in low prices, which must be availed of. The Economic Survey notes that the Indian economy is in "a sweet spot - rare in the history of nations - in which it could finally be launched on a double-digit medium-term growth trajectory".

The government has rightly not passed on the entire drop in crude price to consumers, retaining a portion of it to fund infrastructure. This is a signal that there is political will to steer the economy in the chosen direction.

The budgetary provision for oil subsidy has also halved from Rs 60,340 crore (Rs 603.40 billion) in 2014-15 to Rs 30,000 crore (Rs 300 billion) this year - the fiscal space is also there.
Let there be a debate on the 'sweet spots' in the oil and gas sector.
The writer is Adviser (Energy and Overseas Engagements), National Institution for Transforming India.