Apart from celebrities embracing and discarding brands frequently, you might also see them becoming more responsive to consumer concerns about the brands they endorse, notes Alokananda Chakraborty.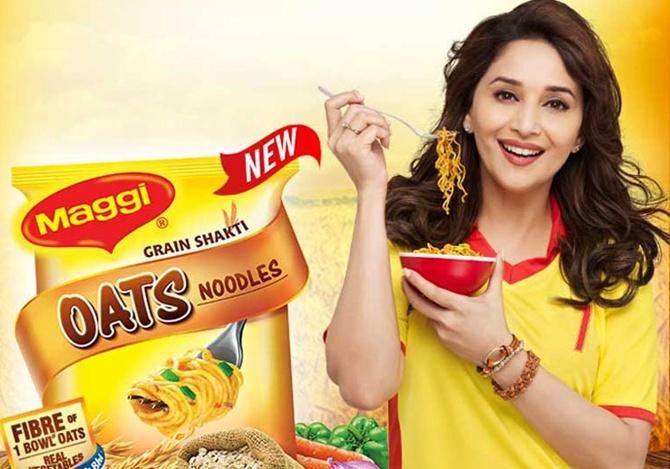 Actors Madhuri Dixit, Amitabh Bachchan and Preity Zinta find themselves in a soup with a Bihar court ordering registration of an FIR against them; it has also said they could be arrested.

The three actors are already facing a similar case in a Barabanki court in Uttar Pradesh. Dixit is the current endorser for instant noodles brand Maggi; while Bachchan does not endorse the brand any longer, Zinta has washed her hands off by saying she used to endorse the brand more than a decade ago.
Here's what happened. High lead concentration and traces of MSG (monosodium glutamate) were found in one batch of Maggi in Uttar Pradesh in mid-May, and the regulatory authorities asked for a recall of that batch.

Then there were more tests in other markets and a clamour for banning the brand nationwide began. As things stand, at least six Indian states have banned Maggi noodles after tests revealed some packets contained excess amounts of lead.

Food group Nestle, maker of Maggi, announced late last week that it was withdrawing all of its Maggi noodles stock from sale across India. The food regulator, Food Safety and Standards Authority of India, has ordered a recall and asked Nestle to stop production.
If one goes strictly by the letter of the law, as two separate Business Standard reports by Devina Joshi ("The double-edged sword", June 8) and Sudipto Dey ("Making celeb endorsers liable", June 8) point out, celebrity endorsers cannot be held responsible for lapses in a product or service.

Yet, the fact that these people have been dragged into the controversy shows the perils of celebrity engagements in a 24x7 digitally connected world.

A Nielsen report shows nearly three-quarters of social media users rely on social networks to hear others' experiences with brands. Willy-nilly, their ambassadors also become part of the dialogue.
So, within days of the crisis, Dixit said she met officials of Nestle and apparently they assured her that there would be no compromise on the quality of the popular snack.

"Nestle explained that they always place the consumer first and have the highest quality standards," she tweeted.
Bachchan and Zinta also took to social media to point out they were no longer associated with Maggi, effectively distancing themselves from the brand they once endorsed.
Some analysts see the tweets as purely pragmatic: The trust vested in the celebrity requires disengagement from a tainted brand.

I see that and the way social media has changed the conversation around celebrated brands and celebrities. All it takes is one picture or one comment and the exposure becomes part of a routine cycle.
I have no insider information about what other celebrities might do next, just a guess. For starters, they would turn down more and more brands that come to them for a possible association.

All endorsement deals will go under more careful scrutiny - as far as the potential endorser is concerned the greater the scrutiny, the more the protection. There would be no place for verbal or implied conditions, as is common today.

Of course, most major endorsement deals include an 'indemnification' clause (that absolves the two parties of any responsibility for the each other's actions), they would become watertight to the extent that the endorser could demand an insurance to cover a crisis, should it occur.

This might lead to some sort of brand speed-dating, celebrities would embrace and discard brands frequently, but at least they would be safe rather than sorry.
You might also see celebrities becoming more responsive to consumer concerns about the brand they endorse.

In a recent case, Hindi film actor Irrfan Khan, who appeared in an ad for a company providing gadget insurance, took up a complaint posted by a fan against the communication and asked his manager to work with the brand and sort out the issue.
Not many celebrities today display that level of accountability but such commitment would be the rule rather than the exception in the post-Maggi world of celebrity advertising.