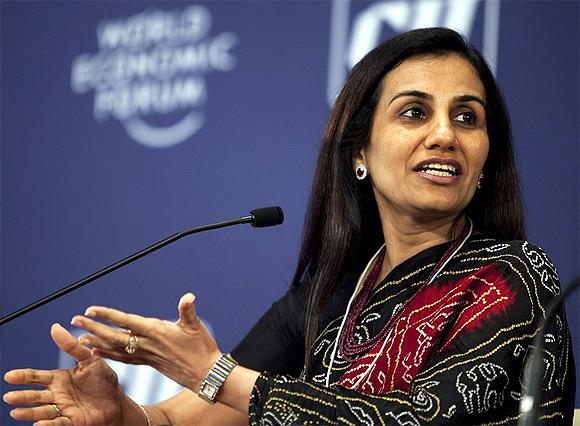 Our focus around technology, cost efficiency, persistency and effective distribution channel will continue, says the ICICI Bank MD and CEO.
Chanda Kochhar, managing director and chief executive officer of ICICI Bank, spoke to reporters on the sidelines of a press conference on the initial public offering of shares from its subsidiary, ICICI Prudential Life Insurance.
What is ICICI Prudential Life's strategy to cope with rising competition from the HDFC-Max combine and SBI Life, among others?
This sector has always been very competitive. Life Insurance Corporation of India (the State giant) has been a very large player. There are more than 20 private sector players. Of course, everybody is growing. In this market, we have maintained leadership till FY16. The market will continue to grow and we will continue to follow our articulated strategy.

Throw some light on the rationale behind the IPO. The proceeds will help shore up ICICI Bank's capital base but this was never an issue for you.

I don't think you should relate it to the bank's capital adequacy. We'd always articulated that over the medium to long term, we'd disinvest some part of our shareholding in these large companies which we've created. The Insurance Amendment Act was passed in 2015, after which came the listing guidelines from Irdai (sector regulator), in December 2015. From then on, we started working on the initial public offering, as the conditions were right. We think such a large company, which enjoys a large market share, should finally be a listed company in its own right.

What is the growth outlook for the company?

India has a young, growing, earning population, with rising urbanisation and very low penetration of life insurance. This means the insurance market should grow. CRISIL Research says the market should grow by 11-13 per cent this year. We, being the market leader, have established the fundamental blocks on which we can grow and have been growing ahead of the sector's growth rates in the past. We see it as an opportunity and believe we can continue to grow ahead of the others. We have to keep in mind the constantly changing regulatory environment.

Now that open architecture is allowed, will ICICI Bank look to distribute products of other companies?

Currently, ICICI Bank exclusively distributes ICICI Prudential Life products. We are the largest shareholder and whatever we do, we do on an arm's-length basis.

What are the margin levers?

Our margins have been improving. Our focus around technology, cost efficiency, persistency and effective distribution channel will continue. Additionally, as the protection market grows further, even that will make a positive impact on the margins.

How do you react to concerns that ICICI Pru Life's valuations have jumped 50 per cent over the past nine months?

The valuations are something the bankers to the issue can talk about. However, generally, the market has grown. Our own business and margins have grown. I think many things have changed since then.

Do you think acquiring another insurance company is a quicker way to drive market share gains?

I don't think only market share is the criterion. Consolidation factors such as the strategic value such takeovers add to the company are also important. We will continue to evaluate it on that basis. Nothing is in the offing just now; we are focused on the IPO.
Image: Chanda Kochhar. Photograph: Getty images.