Debit card use at POS terminals increasing at rapid clip, transactions at ATMs declining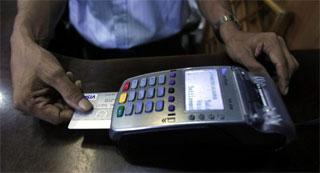 Consumers seem to be cashing out of automated teller machines (ATMs) and logging in at point-of-sale (POS) terminals more frequently. Even as the network expands, the average number of transactions at ATMs is on a downward slope. The use of debit cards at POS terminals, by contrast, is growing at a rapid pace. While in terms of value of transactions, ATMs still enjoy a huge lead, the fact that people have started using their debit cards for more than just withdrawing money suggests the idea of cashless transactions is gaining momentum.

A Business Standard analysis of Reserve Bank of India data for the past three years reveals the average number of monthly transactions at an ATM has fallen 26 per cent from 4,693 in May 2012 to 3,454 in the month this year. During the same period, the average number of transactions at POS terminals increased from under 48 a month to nearly 55 now, an increase of nearly 15 per cent.

"Faster growth in online and electronic payments is happening across the country," said Jairam Sridharan, head of consumer lending and payments at Axis Bank.

On an absolute basis, however, the number of transactions at ATMs and POS terminals is still rising. Between May 2013 and May this year, the number of debit card transactions at ATMs grew nearly 19 per cent and at POS terminals by 25 per cent.

Growth in transactions at ATMs has happened on the back of a huge network expansion, from 98,074 ATMs in May 2012 to 164,491 now. The RBI data are available till May this year. In the same period, the number of POS terminals, too, jumped from 671,834 to over a million now. From May 2012, the net addition in the number of debit cards has climbed 115 million to over 400 million.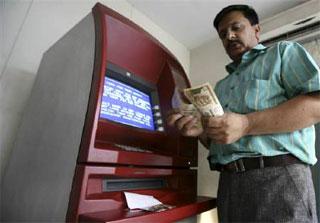 The shift in consumer behaviour is encouraging news for banks as the real push for using debit cards at POS terminals came only in 2013. "Banks apprehended cannibalisation if they pushed the use of debit cards at POS terminals. We were of the view that our other product, the credit card, would suffer if we gave consumers a choice and our income would fall, too. But our apprehensions turned out to be wrong and we decided to push the idea vigorously from 2013," said a senior executive of another leading private bank. He wished not to be named as he is not authorised to speak to the media. Against an estimated 400 million debit cards, there are only about 19
million credit cards in use.
What has helped the switch perhaps is the RBI-mandated two-tier security system that has significantly mitigated the risk of fraudulent transaction at POS terminals. All banks made the switch to the new system from December 1, 2013. Some banks, however, put the system in place much earlier. "Customers are required to key in their PIN numbers at POS terminals. This has made transactions at POS terminals almost risk-free," said a senior executive with a leading public-sector bank.
Bankers say a cashless transaction is more efficient and transparent. It is easy to track, too. And a gradual shift to the cashless form brings down the cost of banking, as setting up and running an ATM is a costly affair. POS terminals, on the other hand, come with very little initial investment and the running cost is negligible.
"We see significant growth in our transaction volumes online and at POS. While there is certainly a shift away from cash, the proportion of consumption expenditure in the form of cash is still very large and, hence, there is a lot more potential for growth in electronic payments," said Sridharan. Installation of a POS terminal would cost Rs 4,000-5,000 while setting up an ATM required an initial investment of nearly Rs 10 lakh (Rs 1 million), said an executive with a public-sector bank. Then, there are recurring expenses like paying for guards, salaries and rent in the case of ATMs. Running a POS terminal is almost free.
"There are some factors that are driving this change. Urban consumers, even in Tier-II and -III cities, are getting hooked to internet banking.
That has taken the burden off ATMs. And most of the ATM network expansion in the past two years has taken place in rural areas, where customers are yet to overcome their initial apprehension of transacting outside of branches. This is why the average transaction at ATMs is falling," said the private-bank executive quoted earlier. And freebies like reward points, cashback and prizes for spending associated with debit-card transaction at POS terminals were driving people towards cashless transactions, he added.
While private banks took the lead, public-sector banks, too, are actively promoting use of debit cards outside of ATMs. A recent State Bank of India advertisement for its debit card says "Cash kyun, mujhe bhool gaye kya? (Why cash, have you forgotten me?)".
Bankers say while new ATMs will continue to be added to the network, the pace of expansion is going to slow down. And ATMs will likely become mini-branches offering many more financial and other services.