If you are buying a policy online there are some basic checks that you need to carry out, points out Tinesh Bhasin.
Illustration: Uttam Ghosh/Rediff.com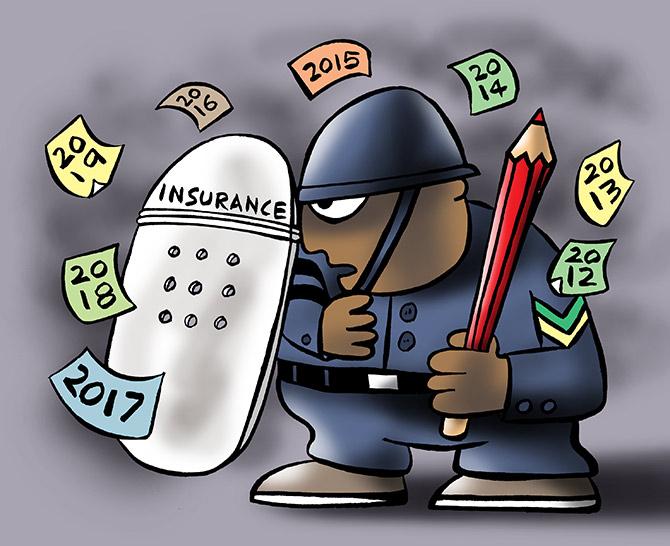 For gullible buyers, there was hardly any difference between irdaionline.org and irdaonline.org at first glance.
Both seemed to be part of the Insurance Regulatory and Development Authority of India.
While irdaonline.org is a website for online agent registration, the other was a fake website, which sold policies online and operators made it look as if it belongs to the regulator.
Some time back the regulator issued a public notice that the domain name is not authorised.
Since then, the website is suspended.
The fraud in insurance is not uncommon.
Conmen have been duping insurance companies by lodging false claims.
All insurers, therefore, have a department that investigates such frauds.
But of late, swindlers have been using newer ways to cheat buyers -- ranging from using fake websites to luring customers with discounts, freebies or even promising money.
Bajaj Allianz General Insurance, for example, came across a case where an impersonator got admitted to a non-network hospital and lodged a claim after getting treated for an illness.
The original insured was not even aware of such a claim lodged on his policy.
When the company investigated, they unearthed a nexus between the impersonator and the hospital.
The most common reason for individuals to fall prey to such frauds is greed.
"We have seen that in auto insurance, many buy a third-party plan only to show it to police during checks. There have been cases of fraudsters issuing a fake third-party policy at a 25-30 per cent discount," says Sanjiv Dwivedi, head-investigation and loss mitigation, Bajaj General Insurance.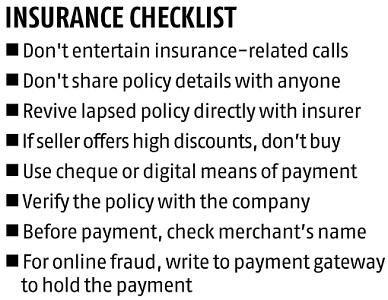 He says buyers need to immediately check with the insurance company on the genuineness and validity of the policy as soon as they get a copy.
It can be done by calling the call centre, using the company's app or emailing the insurer.
"Many times the insured don't provide their mobile number and email address. At times, the policy has the phone number of the agent. In the case of claims, companies send a message and email the policyholder. In case someone else uses their policy for lodging fake claims, they will get to know immediately," says Dwivedi.
He also suggests that buyers should never make payment in cash.
If you are buying a policy online, there are some basic checks that you can carry out.
Ensure you have clicked on the correct website, and that the website has a valid security certificate -- that is, it starts with HTTPS.
When making a payment online, note the name of the merchant.
Your bank or card issuer will also send the merchant's name informing about the transaction.
After making the payment, verify the policy details with the issuer immediately.
In case you realise you have been sold a fake policy online, write to the payment gateway company to hold the payments.
Such companies can help you to recover money.
But it's not necessary that a seller may always give you a fake policy.
"Sometimes third-party sellers promise many things to the buyer when selling a policy. They sell an original policy, take the commission and then disappear," says Nilesh Parmar, chief operating officer, Edelweiss Tokio Life Insurance.
Typically, in such cases, the seller would promise a benefit if the individual buys a policy.
The benefit can be a promise that the customer will get their premiums back or giving them a high-value loan on buying an insurance plan.
"In insurance, there is benefit illustration, which states what a customer would get. There's nothing beyond what an insurer can offer," says Parmar.