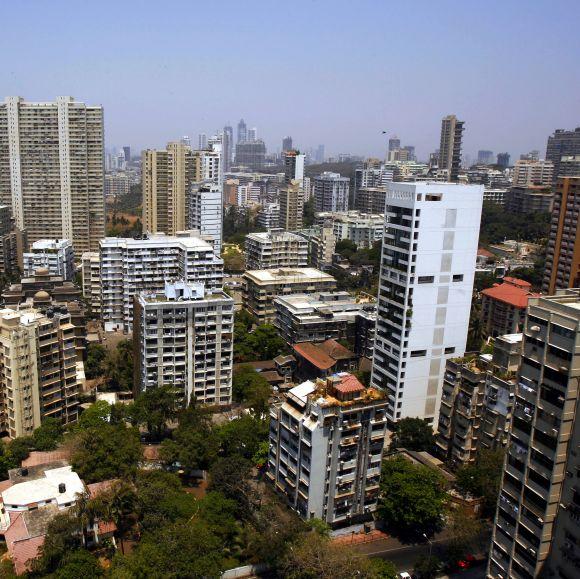 Image: New Houses to cost more. Photograph: Reuters
Property prices will rise slightly with proposed hike in service tax to 14 per cent, according to real state industry associations CREDAI and NAREDCO.
The Finance Minister proposed increase in service tax to 14 per cent from 12.36 per cent.
"Hike in service tax will lead to increase in property prices by nearly 0.5 per cent of the total cost," CREDAI, the apex realtors' body, Chairman Lalit Jain said. CREDAI President (elect) Getamber Anand also said: "There will be an direct impact of increase in service tax, as the cost of property will increase".
"The effective service tax would now increase by 0.41 per cent from 3.09 per cent earlier," he added.
All under-construction properties are covered under the service tax that developers pass on to the buyers. There is abatement of 75 per cent on the service tax.
NAREDCO President Navin Rajeja also said "the additional service tax impact on home buyers will be 0.41 per cent of value of property."
Budget 2015: Complete Coverage
While expressing mixed reaction on Budget, Parsvnath Developers Chairman Pradeep Jain said the increase in service tax would make properties costlier to home buyers.
KPMG Partner and Head (real estate and construction) Neeraj Bansal said the slight increase in service tax and excise duty may impact housing prices.
Cushman & Wakefield Executive MD South Asia sanjay Dutt said: "The increase of nearly 2 per cent in Service Tax is going to increase the overall costs of buyers and those availing services from the real estate sector, creating further stresses across the sector."
HDIL Vice President (Finance & Investor Relations) Hariprakash Pandey said service tax hike will further escalate the housing prices and will be counterproductive to mass and affordable housing.
Developers and property consultants however hailed further tax incentives on Real Estate Investment Trust (REITs).
Commenting on REITs, DLF Group Executive Director Rajeev Talwar said: "The government had already introduced norms for REITs last year, but it could not make much progress pending clarity on taxation related matters. Through the Budget, the Finance Minister has addressed this issue. Pass through rental income and rationalisation of capital gains regime for sponsors will help REITs."
Emaar MGF CFO Sanjay Malhotra said the removal of some of the tax deterrents for Funds and REITS are steps in the right direction. Amrapali CMD Anil Sharma welcomed rationalization of capital gains regime for REITs.
Sobha VC and MD JC Sharma said the decision to overhaul capital gains taxes to pave the way for the listing of REITs) in the country is a step forward that will indirectly aid the promotion of housing for all in the country.