To boost small and marginal farmers, the Budget is likely to announce a credit guarantee fund for Farmer Producer Organisations (FPOs), with equity participation by government in such organisations.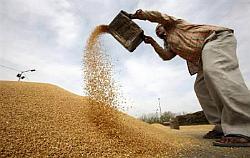 An FPO is typically a company comprising only farmers and producers but formed under the Companies Act. It is different from a cooperative society, though in most places these are called co-ops.

In an FPO, only a producer can become a member; in a co-op society, others can, too. The latter are registered under states' cooperative acts.

According to a senior official from the department of agriculture, there are close to 300 FPOs, covering a little over 500,000 farmers. These numbers could go up significantly with Budget support.

"By June, our target is to have 500 FPOs, with a combined membership of almost 10 lakh (1 million) farmers. For that, we would need some support, as there are almost 60 crore (600 million) farmers in the country who can be brought under the FPO umbrella," the official said.

The role of FPOs in alleviating the plight of small and marginal farmers has also been recognised by the government's National Advisory Council (NAC), chaired by Sonia Gandhi, president of the ruling party.

A working group of the NAC has recently said FPOs were a necessity in the Indian environment, if one has to effectively address issues such as shrinking land, difficulty in accessing critical inputs like fertiliser and credit, a fragmented value chain, weak bargaining with market agents and low return on investments.

An official said the Small Farmers' Agri-Business Consortium (SFAC), promoted by the department of agriculture, is to act as a nodal agency to provide support for creation of FPOs.

"Typical FPOs start with a equity base of Rs 5-10 lakh, which can expand if the business expands. In this, the member-contribution is Rs 500-1,000. The members also contribute a minimum amount of their produce and ensure a fixed quantity of input is purchased, so that the organisation does not fail,"
the official explained.
He said farmers who grow diverse crops can also form an FPO because there would be some common produce between them.
FPOs are being mobilised through a network of about 25 grassroots non-governmental organisations. It takes six to nine months for an FPO to get registered.
The biggest problem they face since inception in the past decade has been access to funds. This is more acute for new FPOs, officials explained.
According to a background note on the financing of FPOs, discussed in an official meeting some months earlier, these organisations suffer from inadequate funding because formal financial institutions such as commercial banks are wary of lending to these bodies, largely due to their inability to provide adequate collateral to cover risk.
Specified agencies like the National Bank for Agriculture and Rural Development do have a dedicated corpus to provide loans to producer organisations but it entertains proposals from only mature FPOs, with a credit history of at least three years.
SFAC's own venture capital fund remains, in principle, open to financing of FPOs. However, the condition of clubbing venture capital with a bank loan has resulted in zero disbursal to producer organisations in the past five years.
It is these difficulties that Budget allocation might help surmount. The NAC's working group's report said the biggest catalyst to bringing small farmers together in an FPO would require committing funds to develop capacity for at least three years, the minimum time required for these organisations to grow.