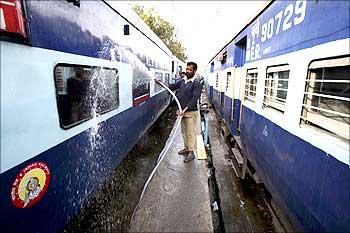 The diesel price hike has put an additional burden of around Rs 2700 crore (Rs 27 billion) a year on the cash-strapped Railways, a senior official said on Friday.

"We have to pay Rs 10.80 per litre more now as the bulk price of diesel has gone up," said the Railway Ministry official, adding, "The fuel bill will be about Rs 2700 crore (Rs 27 billion) more per year due the latest hike."

The government on Thursday allowed state-run oil majors to fix diesel prices on their own in order to reduce an expanding subsidy bill and budget deficit. Oil companies announced a dual price mechanism while hiking the rates.

While the retail consumer will be paying 50 paisa more per litre, for bulk consumers the hike is more than Rs 10 per litre.

The national transporter paid about Rs 10,000 crore (Rs 100 billion) during the last fiscal towards its fuel bill, which has been rising every year due to increase in
fuel cost.
The diesel hike comes at a time when Railways is facing an acute financial crunch. Earnings from passengers and freight have failed to meet the target in the current fiscal. The annual plan allocation has also been reduced from Rs 60,000 crore (Rs 600 billion) to Rs 51,000 crore (Rs 510 billion) this year.
As per the government's decision, bulk consumers such as Railways and state transport corporations will have to buy diesel at market price.
Railways procure about 250 crore (2.5 billion) litre per year from oil companies for its fleet of 4500 diesel locomotives hauling both passenger and freight trains.
Railways had recently hiked passenger fares in all classes to earn additional revenue of Rs 6600 crore (Rs 66 billion) in a year.
The passenger fare hike will come into effect from January 22.
The three oil public service units -- Indian Oil, HPCL and BPCL -- supply fuel providing a subsidy of 30 paisa per litre as Railways is a bulk consumer of diesel.
However, with the subsidy gone, Railways will have to buy fuel at market rate which is likely to hit hard the national transporter.