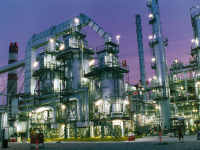 State-owned Hindustan Petroleum Corp Ltd is in talks with BP and Total of France to revive the stalled $10 billion refinery-cum- petrochemicals project at Vizag in Andhra Pradesh.
"Total has renewed interest in the project ... BP too is interested. We are talking to them on possible stakes they can take in the project," a top source said in New Delhi.
An HPCL-led consortium, which included steel billionaire LN Mittal's group, Total of France, state-owned Oil India and GAIL, had in 2009 put the project on hold as petrochemical demand then was seen as too weak to justify the investment.
"Mittal too is back on table. They have tasted success with now mechanically complete (9 million tonnes) Bhatinda refinery (in Punjab). They will be willing to come on board of this project too," the source said.
While OIL and GAIL stayed with the project, Mittal had in November 2008 "put on hold" his investment in the project.
In the following year, Total exited the project, forcing HPCL to freeze the project that involved setting up a 14-million-tonne refinery and a one million tonne petrochemical plant at a cost of $10 billion.
"We are commissioning a detailed feasibility report of the project," the source said, adding public sector firms HPCL, OIL and GAIL will together hold the
same amount of stake which private firms BP, Total and Mittal will get in the project.
HPCL in 2007-08 had planned the only-for-exports refinery to target demand in South East Asia and the Middle East.
The five-way alliance of HPCL, explorer OIL, gas utility GAIL India, Mittal Investment Sarl and Total had in October 2007 signed a memorandum of understanding to look at the feasibility of setting up the Vizag project.
Total did pre-feasibility for the refinery project and demand studies, while GAIL was in charge of the study of the petrochemical unit.
The source said the exact equity structure and project finances were to be decided only after detailed feasibility studies.
But the project was put on hold before equity structure could be decided.
However, the success of Rs. 18,919 crore (Rs. 189.19 billion) Bhatinda refinery, which has been built by an equal joint venture of HPCL and Mittal Investment Sarl in flat three-and-a-half-years, has renewed interest in the Vizag project.
About 2,500 acres land near HPCL's existing 7.5-million-tonne refinery at Vizag has already been acquired for the project.
While the refinery was to be built to process sour and heavy crudes, which are cheaper than low-sulphur sweat crude oil, the petrochemical plant was to use the naphtha produced in the refinery as feedstock.