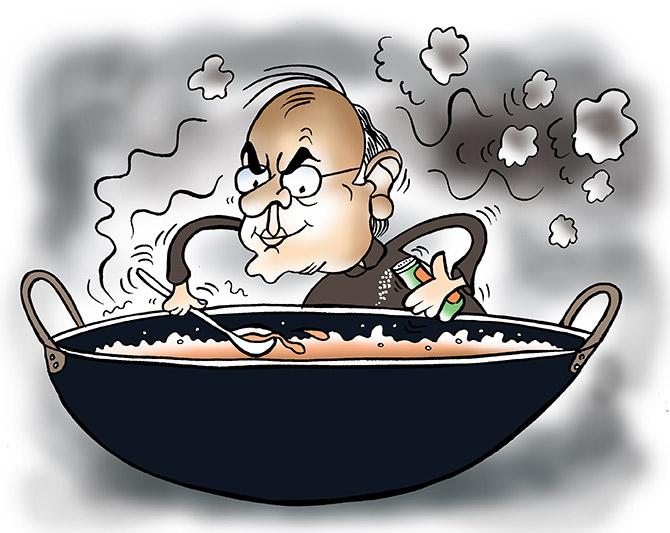 1
The main responsibility for producing the Budget rests with the Budget Division of the Department of Economic Affairs in the finance ministry. The NITI Aayog is also roped in for consultation.
2
In September of every year this Budget Division issues a circular to all Union ministries, states, UTs, and the defence forces asking them to prepare their estimates for the next fiscal year.
3
Once the finance ministry gets these proposals from the ministries and other autonomous departments, various arms of the FinMin -- Department of Revenue, Department of Expenditure and the Department of Economic Affairs get into action.
4
Consultations are held not just with the various ministries, but also other stakeholders like, industry heads, economists, Foreign Institutional Investors and farmers for their views.
5
Once a clear picture emerges, around the last week of January, the finance minister and his team take a final call.
6
He then discusses the proposals with the prime minister and once he gets the PM's nod, the Budget is 'frozen'.
7
Printing of Budget document begins with 'halwa' ceremony.
8
Before the Budget is presented, the finance minister briefs the Cabinet on the Budget proposals through a 'summary for the Cabinet', and on the morning of the Budget day, the government seeks the President's nod.
9
FM then presents the Budget in the Lok Sabha.
10
The budget speech has two parts - part A deals with general economic survey of the country and policy statements, part B contains tax proposals.
11
Once his speech in the Lok Sabha is over, the proposals are laid 'on the table' of the Rajya Sabha.
12
After a detailed debate in Parliament, which usually continues for 2-3 days, a 'vote on account' is held.
13
The Finance Bill or the Money Bill needs to be passed by both the Lok Sabha and the Rajya Sabha. It must also get the approval of the President, and all this within 75 days of its introduction.
14
Once the Finance Bill is passed and signed by the President, the Budget process is over.