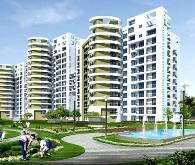 It is a fact that the real estate sector across India had only an average performance last year, except for a few cities.
Still, the last few months were good, as the fall in rupee attracted huge NRI investments in real estate.
One of the main reasons why 2011-2012 was not too good for real estate is the high interest rate regime for borrowing funds.

The Reserve Bank of India had made multiple interest rate hikes for home loans to curb inflation which in turn created dullness in the investment climate for real estate industry as many investors postponed their buying decisions or were still waiting for a decrease in rates.

So, this year there are high expectations for lowering home loan interest rates, over the next 12 months and increased interest rate subsidy for loans up to Rs 50 lakh.
While sky rocketing real estate prices and hike in interest rates of home loans are curbing the demands of the industry, the much awaited segment is the organised retail real estate boom with the Foreign Direct Investment (FDI).

It is expected that FDI will benefit the Indian real estate market significantly and the market environment will be rendered investment friendly. 

Therefore, a relaxation of FDI norms by reducing the amount of minimum capitalization requirement is expected. Increase in infrastructure spending to attract FDI is another expectation in this regard.
Is it necessary boost the real estate sector by recognizing it as an "industry"? Yes, say all the major realtors. The wish list of the realtors for budget 2012 is the need for recognising real estate as an industry.

They call for branding real estate as an industry, as the sector is a key driver for economic growth and is generating many jobs through its verticals and associated industries.

They expect that if the government honours the sector with an industry status, fund raising will not be a constraint to the developers.
It is widely accepted that all over India, real estate sector lacks transparency and regulations. So, a regulatory body, similar to IRDA to tighten the grip over realty sector with stringent rules and regulations is expected.

There are also calls to include real estate sector under the ambit of a single nation-wide tax regime.
More sops for affordable housing and increase in caps on tax deduction available on housing loans are other real estate expectations. Last year, a 1% interest rate subsidy was provided for loans towards affordable housing.

To benefit the homebuyers, it is necessary that the last year's interest rate subsidy is continued to include a wider range of budget housing benefits for home buyers, especially in the lower income groups.

An increase in the caps on tax deduction available on home loans will definitely attract homes as a chief investment tool for many.
Some more incentives for Special Residential Zones (SRZs) are expected to incentivise the growth of housing stock at targeted locations. Besides this, there are expectations of reduction in excise and VAT on manufactures construction materials like doors, windows, pre-cast materials and blocks, RMC etc.

If incentives are introduced to buyers for purchasing second and third homes, it will increase the availability of rental homes.
The government has already taken several measures towards the development of real estate and infrastructure sector, but still, a big push is expected to assist the realty sector in the forthcoming Union Budget.

A big issue plaguing the industry is the slow pace of approvals and too many overlapping approvals which results in unnecessary delay in project executions.

Some guidelines or directives for the introduction of a single-window clearance system are expected to address these issues and aid timely delivery of projects.
Taking cues from the healthy growth of IT/ITeS in Tier I cities as well as in Tier 2 and Tier 3 towns, real estate segment is ready for the poise.

Hence, realtors have much expectation from the forthcoming budget 2012-13. While most of the expectations are positive, there are many anticipating that budget wouldn't have any great impact on the generic lull pervading in the realty market as a whole.
Will the FM raise tax exemption limits? Will he manage to keep both industrialists and common people happy? To know all about Union Budget 2012-13, Click here!