India has a heritage of innovation. Chess, the zero, yoga, ayurveda… we have given the world a huge number of ideas. And now, after centuries, the eyes of the world are once again on India. It's an exciting time. And particularly so for the Print and allied products industry.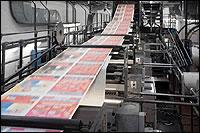 The print industry has evolved dramatically in the last few years. Technology is changing every day. End users are becoming more and more discerning. Markets across the world are looking for more exciting products and faster delivery, and the kind of economies we in India can offer the world.
There are some enormous advantages we can springboard from. We have a great location, with sea on three sides. We have access to fund and capital. We have a culture of hard-work. We are IT savvy. And above all, not only do we understand English, we think in English.  So why aren't we the print capital of the world? The statistics demand an answer. Let's take a look.
Printing one of USA's largest manufacturing Industries accounts for 29.8% of the market value in 2011 ($214 bn), Europe accounts for 31.5% ($225 bn)….and Asia for the remaining 30% ($217 bn)
India is the fastest growing Print market globally – at $12,131 mn in 2006 and expected to be at $20,990 mn in 2011 – a growth of 73%. Is also expected to be in the top 10 markets globally………. Followed by China (60% growth expected in 2011), Brazil (52.9%) and Mexico (34.8%)
However, a large part of this growth in Asia is driven by China who also exports $24 billion of print based products…..
The current turnover of the Indian Printing Industry is in the region of USD 11-14 billion and the Indian printing industry in India is one of the biggest and fastest growing sectors in India. Has consistently outpaced GDP growth
Domestic per capita consumption for paper is the lowest in India at 6kg compared to the South Asian and the world average of 11 kgs and 53 kgs respectively
Industry has kept pace with global pre-press, press and post press processes and technology
 It's fairly safe to surmise that print products that have declined in the developed world will still find a market in the emerging world – with manufacturers seeking markets with big populations and fast growth rates - …AND THUS THE RAPID MOVEMENT OF INDUSTRY TO INDIA AND CHINA – BOTH AS CONSUMERS AS WELL AS MANUFACTURERS.
 So what can we do to take capitalise on this huge opportunity and position India as the print capital of the world. One answer perhaps could be a unification of print providers, supported by Government policy, that will support and enable print to be perceived as a professional industry. A formal body, like Nasscom in the IT industry, could create a forward looking, support system that markets the Indian print advantage to the world.
So the INDIAN PRINT AND ALLIED PRODUCTS INDUSTRY could potentially move from being unorganized and fragmented, to being professionalized income & profit generating with an 'Industry' status. What this needs is forward looking policy that supports efficiency, raw material and technology.
All of which are critical components for India continuing to provide effective solutions to print requirements the world over.  So that India, as a country, and Print as an industry, can find its rightful place in the global economy.