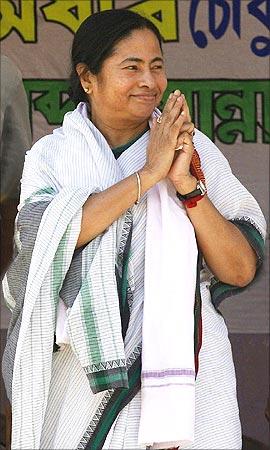 Trinamool Congress chief Mamata Banerjee, who forced the resignation of her party leader and Railway Minister Dinesh Trivedi, today indicated that the hike in the lower class fares proposed by him in the Railway budget may be rolled back.

Another Trinamool leader and currently Union Minister of Shipping Mukul Roy is scheduled to be sworn in as the new Railway Minister in the rank of a Cabinet minister.

"If our nominee will become Railway Minister then we will modify the fares. There is no problem in the hike in upper class fares. We have no objection. . .it is tolerable.

"But for those who are poor, who travel daily in trains or those who travel in sleeper classes, it matters," she said before going to attend the Trinamool Parliamentary party meeting in New Delhi.
"Common people travel in sleeper classes. Whatever we do, the common people should not suffer.

"This is our policy", Mamata said.

Disagreeing with the formula of hike of one paisa or two paisa per km, Mamata said, "In railways there is no travel for a distance of mere one km or two km distance.

It is always more than 100 km or so in urban areas for people who go to office daily. If you count those two paisa per km then it will come to a good amount."

Common people travel in sleeper classes. Whatever we do the common people should not suffer. This is our policy," the West Bengal Chief Minister said.

Asked who will be the next Railway Minister she threw ample hints about Mukul Roy without naming him.

"Whatever we have to say we have already said so by writing a letter to the Prime Minister. You do not have to say everyday as it is a tradition followed in democracy. If we change it then only we will give another letter. Letter is already with the PM."

Asked to comment on the PM regretting the departure of Trivedi, she said, "It is his prerogative to say. Every individual has right to give his opinion. It is their opinion not our opinion.
Image: Mamata Banerjee
Union Budget 2012-13: Complete coverage