How a small-town theatre actor is navigating his way in the world of endorsements, using his Bollywood playbook as a guide.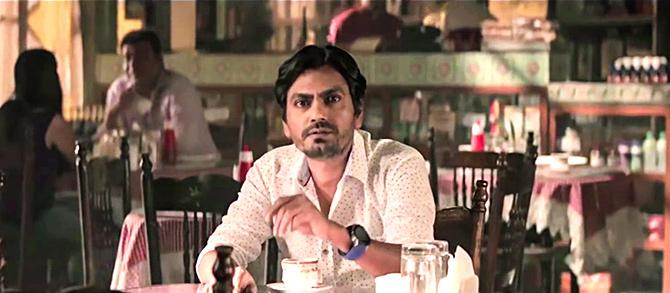 IMAGE: Nawazuddin Siddiqui is very choosy about the ads he appears in. He would rather crack brands, which he says, "People would not expect me to fit into. It's the thrill of breaking that cliché or stereotype that excites me." Photograph: Kind Courtesy Vodafone Flex.
He was an unusual choice for a menswear suits brand.
Not your typical tall and muscular hero that strides across the screen and sets hearts aflutter. Nawazuddin Siddiqui was not quite cut out to be a fashion icon. And that is why Siddiqui is particularly tickled when he was chosen by a suitings brand that had used big Bollywood stars in the past.
He knows he shocked many when he modelled for Mayur Suitings in 2015 as that was just the way he wanted it to be. And since then that is precisely what he has aimed to do with all the brands that he has signed on, while also raising his fees significantly, although his team was consistent in its refusal to put a number to the amount he charges today.

With a glint in his eye, Siddiqui reveals that endorsing brands, like Mayur, that has had Shah Rukh and Salman Khan among its ambassadors, brings him great joy. He would rather crack brands, which he says, "People would not expect me to fit into. It's the thrill of breaking that cliché or stereotype that excites me."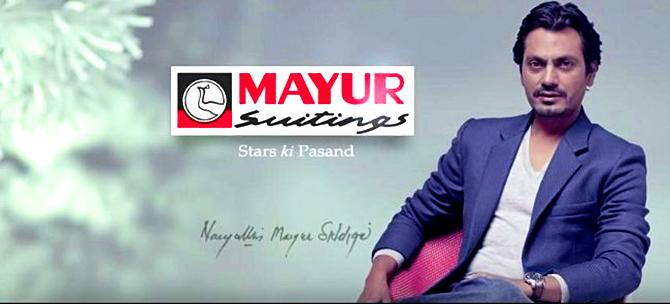 IMAGE: Nawazuddin Siddiqui says he probably shocked many when he became the Mayur man. Photograph: Kind Courtesy Mayur Suitings.
That is partly why after nearly a decade in the industry, Siddiqui has signed just eight brands unlike many of his contemporaries who have crossed the number many times over. The comparatively small list of brands is partly because of Siddiqui's stubborn refusal to endorse brands that do not mark him out as one who is not part of the pack. He is selective. At the same time, his is a face that brands have taken their time warming up to.

Everything about him from his looks to his background, challenges the notions that one may have about brand endorsers and actors in general.
Siddiqui says that there are umpteen instances where his acting ambitions have either been trashed or laughed at. But that is the fun, he says. "By making it in movies, I broke that stereotype and by taking on brands that look for a particular profile of endorser that is very different from the person I am, I am breaking another stereotype."

Siddiqui's unique looks and selection criteria have helped him create a distinct identity for himself say experts and are going a long way helping him earn the big endorsement bucks. Industry estimates put him in the same league as Irrfan Khan. "Both charge around Rs 4 to Rs 6 crore per film, depending on the scale of the project. Of course these rates are for the 'massy' films.
"For indie films, they work around the budget. In terms of endorsement, it is difficult to peg down the rate because while Mayur Suitings is a traditional brand, there are other brands who have taken him on board as the face for a campaign and not a long term endorser," says a brand manager.

The actor looks at his endorsing assignments as a means to make a statement, just as he does his movies. It does not matter how big the brand is, he says, he still looks at the script and there are certain brands that he would never do. Fairness creams, for instance.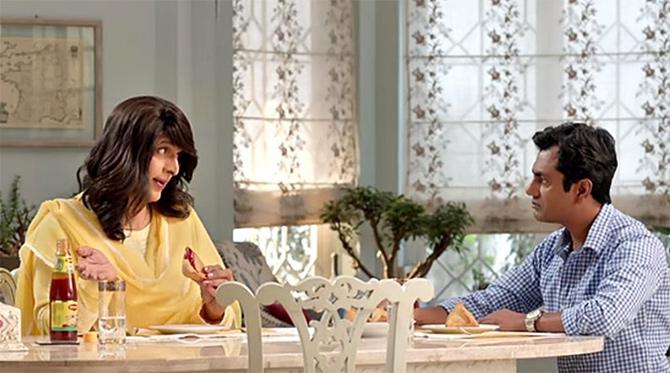 IMAGE: Nawazuddin Siddiqui and Javed Jaffrey (yes, left) do a cute Maggi skit. Photograph: Kind Courtesy Maggi.
Being selective is what he believes helped him make it in this industry. He says he was choosy even when he had no films on hand. "I had seen what had happened to some people before me. How they took everything that came to them and then they suffered. I am not going to do the same," he says.

It took Siddiqui a long time to break into Bollywood. "I have a theatre background. Did some street shows too. We would do skits and sometimes there would be a sponsor for those plays. That made us money and come to think of it, that was the first time I endorsed a brand," Siddiqui says.

After he had put together some money, he moved to Mumbai. For six to seven years, he says, "I was getting very small scenes, just one scene or so. Then I began getting two scenes." Then there came a surprise festival hit, Patang that got directors taking a second look at his talent and on-screen presence.
Gangs of Wasseypur was the big shift and once the movie released, he was flooded with offers. "I got almost 150 scripts, all of which I rejected. I had to be careful, having seen my seniors take on work that made them go down just as fast as they became stars. I do not regret turning down a single one of those scripts," he says.

Siddiqui who has a movie based on the life of Manto coming up, is applying the same principle to his endorsements.
Not only does he look at the product carefully, but he is also careful to ensure that his presence should help the brand make a statement. Once he chooses a brand, there is no backing down on the commitment.


IMAGE: Spice chooses Nawazuddin Siddiqui and Nawazuddin Siddiqui chooses Spice. Its ad is a hat tip to Nawaz's journey from a small town. Photograph: Kind Courtesy Spice Mobile.
The process is very similar to what he does for movies. In his opinion, the trick is to balance the indie and massy projects. So for every Maanjhi he anchors, he has done a potboiler like Kick. He is currently working on Munna Michael, a film starring Tiger Shroff and has also starred in 2016's controversial Anurag Kashyap project called Haramkhor.
Similarly, it does not matter how big or small the brand is. The mix must be right and he says he gives every brand everything he has.
"When people say it is a small budget film, do they expect me to act less?" Siddiqui shrugs with a twinkle in his eye. On a similar note, no brand is too big or too small for his time as long as it helps smash a few established notions.