Limit your investment in cryptocurrencies and make sure you have current holdings in your own custody until the regulatory cloud blows over, experts tell Sanjay Kumar Singh.
Illustration: Dominic Xavier/Rediff.com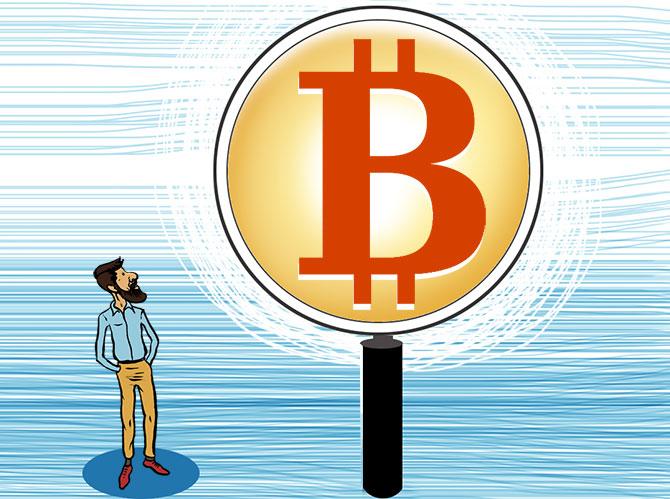 Cryptocurrencies are currently under regulatory fire from several directions. Until there is greater certainty about their status, investors need to exercise caution in dealing in this asset class.
Towards the end of December last year, the finance ministry said cryptocurrencies were not legal tender and had no regulatory permission or protection, and that investors dealing in them were doing so at their own risk.
The ministry added there was a real risk of an investment bubble in them of the type seen in ponzi schemes, with investors risking a sudden and prolonged crash.
The income-tax department has sent notices to thousands of people investing in cryptocurrencies, asking them to pay tax on capital gains, and reveal their holdings and source of funds.
The Registrar of Companies has stopped registering businesses that have names indicating that they will deal in cryptocurrencies.
Most recently, the Reserve Bank of India (asked banks to step up scrutiny of financial transactions by companies and exchanges dealing in cryptocurrencies. It did not explicitly ask banks to stop dealing in them, but its warning could cause many to close down their accounts.
Says Ashish Agarwal, founder of Bitsachs, a cryptocurrency exchange: "The regulators have to decide whether to allow cryptocurrencies. At present there is no clarity, so banks are uncertain about what to do."
One point in favour of Indian cryptocurrency exchanges is that many of those do complete KYC (Know Your Customer) before opening an account.
"We ask for Aadhaar, the PAN card, and a cancelled cheque from customers," says Agarwal. Hence, the fear that one can trade anonymously in cryptocurrencies does not exist for customers of these exchanges.
In the light of the RBI's warning, each bank is likely to do its own assessment.
The more risk-averse ones may stop dealing with cryptocurrency exchanges, but others may decide that if an entity does adequate KYC and is well-capitalised, the risk in dealing with it is acceptable.
The bigger risk, say experts, is for customers who trade on international exchanges.
According to Udbhav Tiwari, policy officer at the Centre for Internet and Society, Bengaluru, "Most of the trading in initial coin offerings (ICOs) happens on exchanges situated abroad. In future, banks may not allow money to go from your account to that of the exchange, or in the opposite direction."
"Since these exchanges are foreign entities," Tiwari adds, "Indian banks don't know what kind of KYC norms they follow. There is also a greater probability of illegal activities happening through them."
Investors need to tread with caution.
"Don't invest more than five per cent of your portfolio in cryptocurrencies at this juncture," says Agarwal.
Given the high risks in ICOs, which do operate like ponzi schemes -- promoters and early investors make money since there is a rise in prices.
Those who come later bear the losses when markets fall due to various reasons, including regulatory risks.
Risk-averse investors should encash their cryptocurrencies right away.
Any profits made should be reported and tax paid on them.
Those who have some risk appetite may hold on to their cryptocurrencies, but not buy more.
Only those with a high risk appetite should add to their positions.
"Since prices have fallen, this is a good time to enter bitcoin," says Agarwal.
Some promoters of exchanges may wilt under regulatory pressure and decide to shut down their business.
Investors who have stored their cryptocurrencies in their exchange's wallet should take possession of them.
"Have the private keys in your own custody. If your exchange closes down, you will be able to sell your holdings on another exchange," says Tiwari.
"But if you don't have the private keys and the exchange shuts down, you could well lose your holdings."