CCI investigation into predatory pricing likely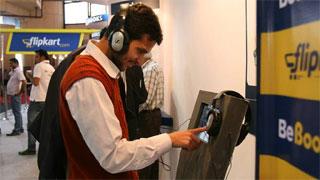 The blockbuster Big Billion Day sale on Flipkart that gave it $100 million in revenue in only 10 hours has clearly backfired on the poster boy of Indian e-commerce. Flipkart is now facing government scrutiny, following complaints from traders over undercutting prices and adversely affecting competition. A probe by the Competition Commission of India (CCI) is not ruled out.

This comes soon after Flipkart failed to please millions of Indians on the much-advertised 'Big Billion Day', though co-founders Sachin Bansal and Binny Bansal were quick to send an apology to buyers, who were angry over technical glitches and price anomalies.

But the apology of the Bansals (not related to each other) might not be enough, as Commerce Minister Nirmala Sitharaman has indicated the government is watching. "We have received many inputs. Lots of concerns have been expressed. We will look into it," Sitharaman told the media. She added the government would soon make it clear, after studying the matter, whether a separate policy or clarification was required for e-commerce.

Indeed, an e-commerce policy has been in the making for long, even as the sector, pegged at around Rs 18,000 crore (Rs 180 billion), has been growing at a rapid pace and is expected to touch Rs 50,000 crore (Rs 500 billion) by 2016. The only clarity that has been provided by the government on the sector is that foreign direct investment is not permitted. However, e-commerce players have taken advantage of the regulatory silence on marketplace (a format of hosting retailers on a technology platform) to attract foreign investment. Even international e-commerce leaders like Amazon and eBay have used the marketplace route to enter India.

Asked to respond to Sitharaman's observation and traders' concerns, a Flipkart spokesperson said: "We are an e-marketplace, where sellers decide the price, and only they can change the prices in the system. They sell directly to buyers without stepping out of their workplace."

Though it is Flipkart and its 'Big Billion Day' that seem to be under the lens, other e-commerce players like Amazon, Snapdeal and Myntra (now acquired by Flipkart), too, are on a discount spree, at times offering products at prices that even dealers cannot afford.

The scrutiny on Flipkart, and perhaps some other e-commerce players, has been triggered by traders who are prominent in brick-and-mortar retailing.

Future Group Chief Executive Kishore Biyani has attacked e-commerce players for selling products below manufacturing prices. The undercutting of prices was meant to destroy competition, Biyani said.

Others, including the Confederation of All India Traders (CAIT) and the newly formed Online Vendors Association of India (OVAI), want a regulator to look into the matter of price undercutting by e-commerce players in the festive season. Traders are a large supporter base for the ruling National Democratic Alliance government.

OVAI Convenor Rahul Suri told Business Standard: "They (e-commerce players) should not use their funding for undercutting prices." They should focus on offering convenience to buyers and not killing competition, he added.

Even as there are suggestions that CCI should take up the matter as it deals with undercutting and predatory pricing, there is no decision yet on that. CCI Chairman Ashok Chawla said the commission would take up the matter if and when there was a complaint linked to predatory pricing.

The objective of CCI is to promote competition and it gets into the picture only when there is a complaint on predatory pricing. But it is learnt that in the past, CCI could not proceed in a similar case related to e-commerce company, Snapdeal, as it was not a seller itself but was only providing a platform where the seller and the buyer could meet.

Flipkart, which was conventionally an inventory-based company, has now shifted to marketplace, the same model as Snapdeal.
Troubles ahead
Flipkart faces Enforcement Directorate probe over alleged violation of the Foreign Exchange Management Act
Karnataka govt wants value-added tax on third-party goods that are stored in e-commerce companies' warehouses
Allegations by traders of price undercutting in mega sale on October 6