It makes sense to shift to a home loan provider offering a lower interest rate or make occasional prepayments by using bonuses or other windfalls, says Sanjay Kumar Singh.
Illustration: Uttam Ghosh/Rediff.com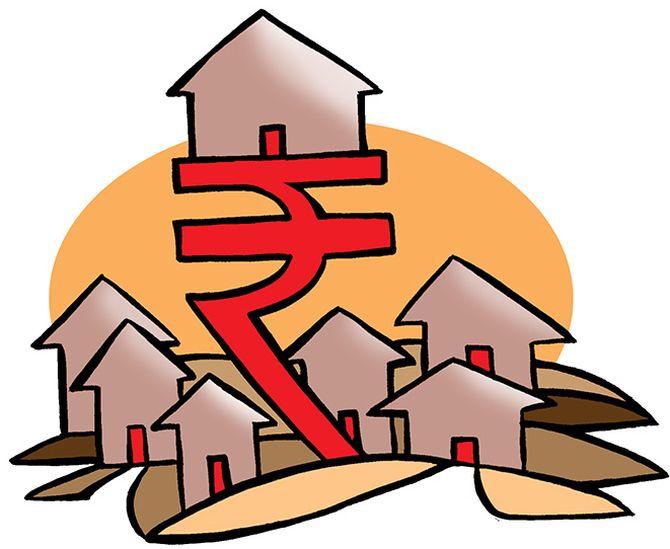 Borrowers who took large home loans when interest costs were low may have to do a considerable amount of belt-tightening as home loan rates surge upward.
Both State Bank of India and ICICI Bank have hiked their home loan rates.
The former has hiked its marginal cost of funds-based lending rate (MCLR) by 20 basis points (bps) from 8.25 to 8.45 per cent.
SBI's home loans will now cost 8.10 to 8.65 per cent (up from 7.90 to 8.45 per cent earlier).
ICICI Bank has hiked both its six-month and one-year MCLR by 15 basis points.
The rise in home loan rates will impact new customers immediately.
Older customers will be impacted when their reset date arrives.
A person who takes a 15-year loan of Rs 1 crore from SBI will now have to pay an equated monthly instalment (EMI) that is higher by Rs 1,154 if her interest rate changes from 7.90 per cent to 8.10 per cent.
More significant will be the impact on interest cost over the entire loan tenure.
If her/his interest rate were to remain unchanged for the tenure, this 20 bps hike would translate into an additional interest cost of Rs 207,827.
Of course, interest rates tend to be cyclical, so the impact may be less. In the near- to medium term, however, households will face pain.
When interest rates rise, banks normally hike the tenure, while keeping the EMI constant.
Borrowers can, however, opt for a higher EMI also.
The latter is a better option from the point of interest cost over the loan tenure.
Suppose a person has a Rs 1 crore loan for 15 years and her/his interest rate goes up from 7.90 per cent to 8.10 per cent.
If s/he allows her EMI to rise from Rs 94,989 to Rs 96,143 while keeping the tenure at 15 years, her/his interest cost over the tenure will rise by Rs 207,827.
But if s/he chooses to keep her/his EMI constant and allows her/his tenure to rise, her/his interest cost will rise by about Rs 413,600.
"If cash flow is not an issue, opt for a higher EMI while keeping the tenure constant," says Deepesh Raghaw, founder, PersonalFinancePlan.in, a Sebi-registered investment advisor.
Existing borrowers can exercise a few other options as well to counter rising rates. One is to hunt for a better home loan rate.
"Existing borrowers should compare the rates being offered by their lender to those of other banks and non-bank finance companies," says Naveen Kukreja, chief executive officer and co-founder, Paisabazaar.com.
"Calculate the potential saving that can be achieved by transferring your loan to a lower rate. Compare this with the cost of undertaking the transfer," he adds. "If the saving is substantial, go for the home loan balance transfer option."
You stand a better chance of getting a lower rate if your credit score has improved since you first took the loan, says Raghaw.
In a rising rate scenario, borrowers may also opt for the longer reset option.
"If your loan is less than five years old, try to switch to a longer reset period of up to two years. This will help you retain the existing rates for a longer period," says Adil Shetty, chief executive officer, Bankbazaar.com.
He, however, warns that switching to a longer MCLR period may increase the overall interest rate marginally, so borrowers should do the cost-benefit analysis before taking this call.
Another option, according to Shetty, is to make periodic pre-payments on the loan.
This can be done either by saving more, or by using windfalls like bonuses.
Those approaching the end of their tenure should maintain their loan till the end and collect whatever tax deductions they can.