A 10th of all home sales here have buyers from Mumbai, NCR, Kolkata; half of entire country's office space sales last year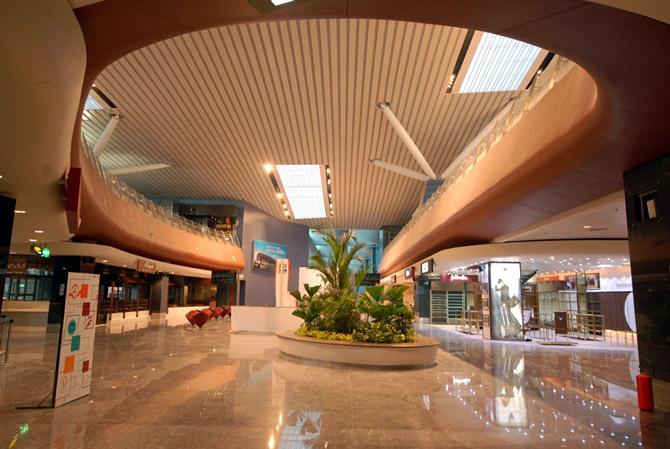 Image: The Bengaluru airport. Photograph: Rediff Archives
Bengaluru, the country's most stable housing market and the largest office market, is drawing investment for its homes from Mumbai, the National Capital Region and Kolkata in a big way.
Bengaluru-based developers such as Puravankara and Brigade are seeing eight to 10 per cent of total home sales from buyers in these three areas.
"Historically, buyers from Kochi, Chennai and other South Indian cities used to buy in Bengaluru; those from northern cities were a bare minimum.
"Now, it is about eight per cent," said Om Ahuja, chief executive officer, residential, at Brigade Enterprises.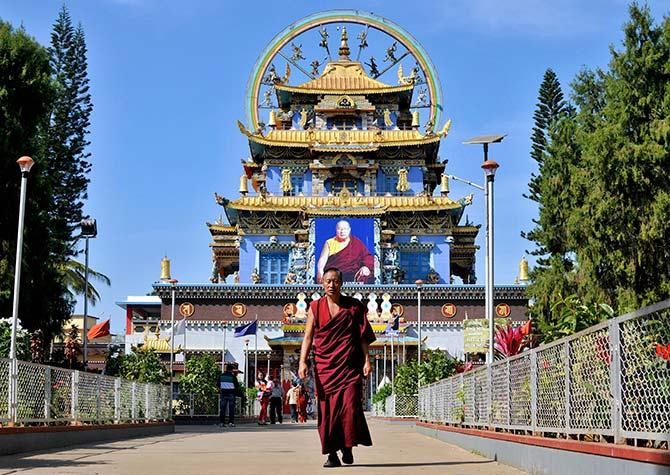 Image: A Tibetan Buddhist monk walks in front of the Golden Temple inside the Nyingmapa Monastery in Bylakuppe, southwest of Bengaluru, previously known as Bangalore. Photograph: Abhishek N Chinnappa/Reuters

Brigade had sales of Rs 685 crore (Rs 6.85 billion) for the first nine months of this financial year.
On interest in Bengaluru homes, Ahuja said: "The prices are reasonable and affordable. Commercial activity is being shifted here, which is drawing interest from people in big cities."
Mumbai's average prices have breached Rs 8,000 a sq ft; Bengaluru's average home prices are Rs 4,000 a sq ft.
Those in Mumbai rose 10 per cent in 2014; Bengaluru's saw seven per cent, says realty consultancy Knight Frank.
Besides home to information technology majors Infosys and Wipro, and a host of others, the city is also seeing large property deals by others.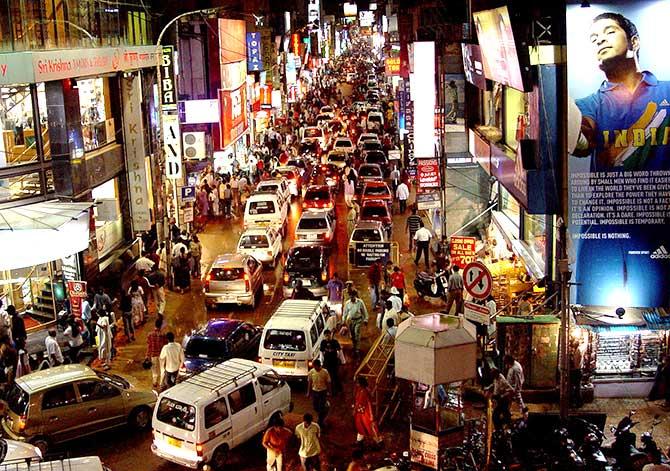 Image: In this file photograph, commuters are seen on a busy commercial street in Bengaluru. Photograph: Reuters

E-commerce giant Flipkart leased 3.5 million sq ft last year, and KPMG and Honeywell pre-committed to around 1.6 mn sq ft in Bengaluru, expected to fuel further demand for homes.
"The continued demand, stable economic growth and suitable climate makes Bengaluru an attractive alternative destination for investment," said Ashish Puravankara, joint managing director, Puravankara Projects.
They draw 10 per cent of sales from buyers in Mumbai, NCR and Kolkata.
Home sales
While Mumbai sold 68,000 residential units in 2014, Bengaluru was second highest at 55,000 units.
However, Mumbai has the highest number of unsold units in the country, about 200,000 as of December 2014.
Bengaluru needs seven quarters to sell its inventory, Mumbai will take 11.5 and the NCR will take 13.8.
Experts say Bengaluru developers are adopting aggressive sales campaigns, targeted at both locals and buyers across the country.
"Everyone is targeted -- NRIs (non-resident Indians), IT sector employees, those who have lived in the city," said Amit Bhagat, managing director at ASK Property Investment Advisors.
PE flows
Individuals aside, large private equity (PE) investors are also betting highly on the Bengaluru property market.
The city has seen 19 PE transactions in real estate, worth about $311 million (Rs 2,350 crore), second to Gurgaon's $672 mn worth in the past year.
"We are comfortable underwriting transactions in Bengaluru, as pricing tends to be range-bound and stable," said Khushru Jijina, managing director at Piramal Fund Management.
They invested Rs 1,000 crore (Rs 10 billion) over the past year and intend to disburse another Rs 1,000 crore over the next two quarters.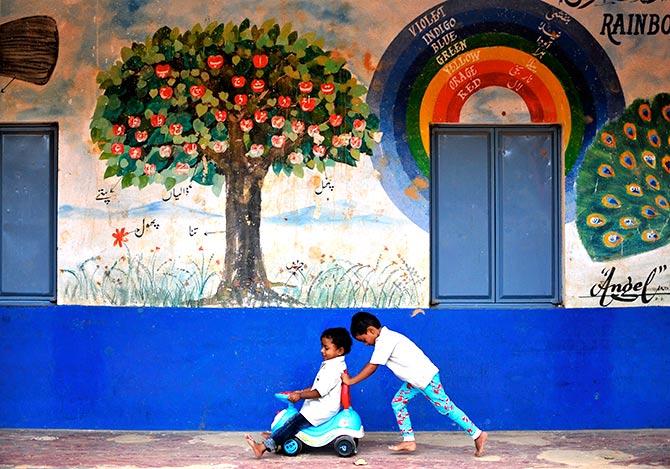 Image: Children play in the corridor of a government-run school in Bengaluru. Photograph: Abhishek N Chinnappa/Reuters

The Mumbai-based ASK Group has deployed Rs 250 crore (Rs 2.5 billion) in the past two years in Bengaluru and wishes to do more.
"Bengaluru is a user market and because of continuous supply by good developers, prices have been under check," said ASK's Bhagat.
Reliance Capital has invested Rs 400 crore (Rs 4 billion) in Bengaluru in two years.
Office boom
An office market boom has also fuelled demand for homes in Bengaluru, experts said.
It accounted for 49 per cent of the country's office space absorption in 2014, according to Colliers International.
The city absorbed 13.77 million sq ft of office properties last year.
"For leasing of 12 to 14 mn sq ft, 100,000 new jobs are created in IT.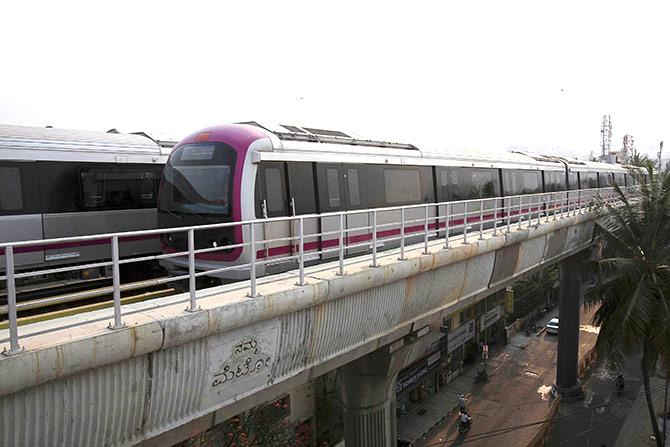 Image: A Namma Metro (Kannada for 'Our Metro') train travels along an elevated track in the Indira Nagar area of Bengaluru. Photograph: Vivek Prakash/Reuters

"That, with another 100,000 jobs in other sectors, means Bengaluru needs 55,000-60,000 homes every year," said Bhagat.
Added Jijina of Piramal: "There has also been a significant uptake in commercial demand and leasing in FY 15-16, expected to have a natural follow-on impact on residential demand.
"Office absorption in FY15 was over 12 mn sq ft, against a previous five-year (annual) average of seven to eight mn sq ft."