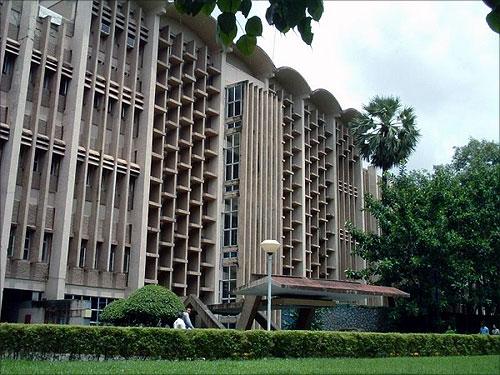 Even as money rains down on Indian Institute of Technology (IIT) campuses, recruiters are focusing more on variable components rather than base salaries, which have remained close to the levels seen last year.
IIT placement cell officials said variable components in salaries - stock options, joining or sign-on bonus, relocation benefits, medical reimbursement, leave travel allowance, transport allowance and other benefits - had raised annual salaries to more than Rs 1 crore. Including variable components, international pay packages have soared 10-30 per cent at IITs.
Consider this: US-based computer technology firm Oracle, which has made a job offer of Rs 1.83 crore (Rs 18.3 million), is giving a base salary of Rs 80 lakh and 4,000 shares in stock options.

With the Oracle stock at about Rs 2,590 ($41.9), 4,000 stocks are valued at Rs 1.03 crore, taking the overall compensation package to Rs 1.83 crore.
This is also the case with social networking site Facebook, which has made job offers for coding profiles.

Students said of the company's compensation package, about Rs 65 lakh was base pay, while Rs 62 lakh was in stock benefits and the rest a one-time joining incentive.
A multinational firm at one of the IITs has made an offer of $100,000 as the base salary, $15,000 as a sign-on bonus and $10,000 in relocation benefits, along with stock options.
Google, Oracle, Microsoft and Facebook are among several companies making big-ticket job offers to students.
IITs divide salaries into two parts - the guaranteed, or fixed, component and the variable component. They say they consider only the fixed component in their placement records.

This, they add, is because in many cases, pay packages also include charges of students' accommodation in five-star hotels. "These are one-time payments and are completely misleading. We do not club these with the overall package. We focus only on the assured and recurring salary component," said a placement official at IIT-Bombay.
Placements at IITs are conducted in two phases: The first phase began on December 1, while the second will begin next year and end in April-May. The new IITs began their placements in November, and the process is still underway.
At IIT-Madras, the highest salary recorded this time was $129,500 (Rs 80.2 lakh).
Last year, IIT-Madras had recorded the highest global pay package of $210,000, or about Rs 1.3 crore.
Officials involved with the placement process said in many cases, students didn't stick to a company for more than a year or two.
In such a case, students aren't able to exercise their stock options (if they quit the company before three or five years). "We have seen many cases in which students have quit and come back to India in a matter of six to nine months," said an official.
IIT-Bombay's highest domestic pay package stood at Rs 42 lakh – Rs 34 lakh and Rs 8 lakh as incentives – from Tower Research Capital India.
At IIT-Kanpur, average salaries have risen 23 per cent compared to Rs 7.9-8 lakh last year. Sources at the institute, however, said IIT-Kanpur was "not into the average salaries game".
Urban Ladder picks 16 IIT-M students
Urban Ladder, a Ratan Tata-backed e-commerce firm, selected 16 students from Indian Institute of Technology-Madras (IIT-M) on Wednesday, the most by any company during the day.

On Wednesday, the third day of placements, companies gave offer letters to a total of 86 IIT-M students. For the past three days, overall offers (including to MBAs) stood at 487 (315 last year), while the number of students placed (including MBAs) was 418 (275 last year).

A total of 89 companies took part in the placements, against 64 last year. Among firms that came to the campus this year were Tata Motors (seven students selected), Caterpillar (five), Tiger Analytics (five), Taiwan Semiconductor Manufacturing Company (four), Futures First Info Services (four), Citrix R&D India (four), Cerner Corporation (three), NetApp (three) and SanDisk (three).
Firms threaten withdrawal of job offers
With students from IITs going public with the compensation packages offered to them, companies have told these institutes they might withdraw the offers.

"Companies are upset over the disclosure of compensation packages offered by them to our students and have threatened they will withdraw these offers. If this happens, it will be bad for students," said an official at IIT-Bombay.

The institute said it had told students on an intra-net blog not to make placement details public.

IITs sign a non-disclosure agreement with the companies that come to their campuses for placements.
IIT-Kanpur students reject Rs 93-lakh offers
Students at Indian Institute of Technology-Kanpur, it seems, are looking at job satisfaction more than compensation packages. "We received four offers of $150,000 (about Rs 93 lakh) packages, but all four students rejected the offers," sources at the institute said, refusing to divulge further details on the packages. However, it has been learnt the offers were made by Samsung.
With inputs from Gireesh Babu in Chennai

Image: IIT, Bombay
Photograph: Courtesy, Wikimedia Commons