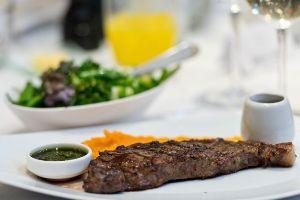 Shakeel Ansari, a beef trader in Govandi, near Asia's largest animal abattoir in Deonar, a suburb here, is looking for an alternative means of livelihood, due to the ban on slaughtering of bulls and bullocks in Maharashtra.
The trade says around 50,000 personnel directly involved in the beef trade are being rendered jobless, along with the impact on 100,000 in indirect employment and an additional 150,000 people in allied activities -- sold and liquid management, transportation of carcasses, trade in leather goods.
The state, which slaughtered 316,757 such cattle in 2013-14 and 212,139 bulls and bullocks in the current financial year up to December, banned such slaughtering from March 4.
Thus, 33 operational abattoirs came to a halt.
Apart from that, illegal slaughtering houses are estimated to have been killing 3,000 animals a day.
Abattoirs that had received animals after the ban order have returned these.
Deonar alone returned around 300 animals on March 5, on transit when the government announced the ban.
While announcing the decision, the state government estimated slaughtering of an average of 4,000 such cattle every day.
"With an average weight of 300 kg and a retail price of Rs 120 a kg, the raw beef economy works out to Rs 5,500 crore (55 billion)," said Apsing Pawara, general manager at Deonar.
Including the Rs 4,500-crore (45-billion) business of sales of processed of beef in hotels, transportation charges, entry fees, management of solid and liquid wastes, leather articles and so on, the overall beef economy is estimated at Rs 10,000 crore (Rs 100 billion) in Maharashtra.
"Only sheep and goats are slaughtered twice a week in the Deonar abattoir. We had stopped slaughtering cows long ago.
"Following the state government order, we stopped slaughtering of bulls and bullocks also from March 4.
"Since, availability of beef has got restricted, prices of mutton might go up to meet local demand," said Pawara.
"The affected traders and workers had organised a morcha here on March 10.
"We are meeting Chief Minister Devendra Fadnavis on March 24 for exploring a solution.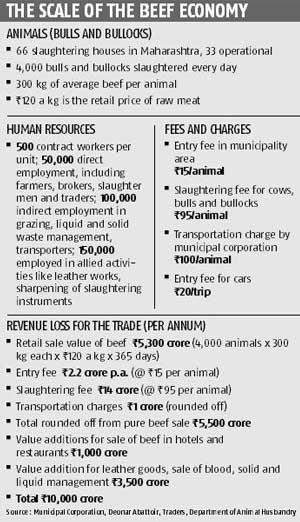 But, it is highly unlikely that the government would help us.
"In the leather business, people of all castes are involved.
"With this ban, all will be jobless. The government must arrange an alternative means of livelihood.
"Who will give us job after serving the beef trade for 30 years?" asked Ansari, a member of the Sharv Shramik Sangh, an association of workers at Deonar.
M Rafeeque Ahmed, president, All India Skin and Hide Tanners and Merchants Association, said Maharashtra used to supply nearly two million leather sheets a year.
The ban will increase the price of leather products and bring down production, as the domestic market won't be able to meet the demand and importing won't be viable, he said.
Traders and brokers will have to transport their animals to states where slaughtering is allowed, which will raise prices, said Ansari.