Plan to lay off excess staff, trim salaries of top executives.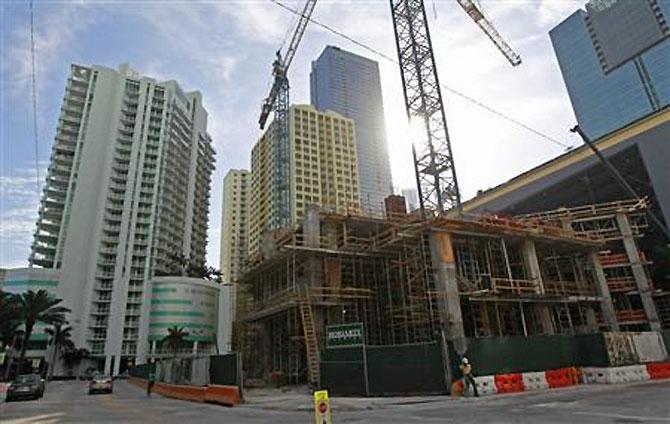 Faced with a tight liquidity scenario in the wake of demonetisation and Real Estate (Regulation & Development) Act, 2016, or Rera, kicking in, property developers are looking to cut costs on all fronts to save cash and maintain bottom line. And, they are looking at cutting down on everything -- from salaries and marketing expenses to the number of jobs in their companies.
"We are in the worst phase of the industry with demonetisation, Rera, and a general slowdown. We have to gear up for these tough times for the next six months to a year," said Vijay Wadhwa, chairman of Wadhwa Group, one of the biggest developers in Mumbai.
The Wadhwa Group, according to him, is looking to slash excess staff by 10-15 per cent and rethink top salaries to save cash.
"People and the whole organisation have to be very efficient. Otherwise, we will not survive," Wadhwa added.
Wadhwa said prominent developers in Mumbai were informally discussing ways to cut costs, save cash and how to brace for tough times.
Another developer in Mumbai said they were looking to put 30 per cent of the salaries drawn by people who earn Rs 1 lakh and above in escrow accounts and release the same when things get better.
"We do not want to take their money. We just want to make our company stay afloat in tough times," said the chairman of a company, asking not to be identified.
Sandeep Runwal, director at Runwal Group, said his company would look to rationalise all costs and run a more efficient operation, with much lower overheads. He said for the time being, the company would not look at any new land acquisitions.
Fitch Ratings recently said that residential property sales of most residential developers to come down by at least 20-30 per cent in 2017, because of the government's move to demonetise certain currency notes.
"The government's move in November 2016 to curtail undeclared wealth by demonetising certain currency notes is likely to take a toll on demand. Property and gold are popular instruments for investing undeclared income in India's large cash-based economy," it said.
Fitch expects the credit profiles of most residential developers to weaken, as slower sales could mean cash collections will lag construction commitments.
"This would be particularly true for companies that have aggressively expanded their land banks in the past two years, using cash collections from previously sold properties," said Fitch.
The recent Reserve Bank of India move to keep rates unchanged also comes as a dampener for developers. They were expecting 25 to 50-basis point cut.
"It is a disappointment for all industries, including real estate. For developers to cut prices, their cost of funding should come down first," said Rajeev Talwar, chief executive officer at DLF, the country's largest developer.
Talwar said RBI's decision (of not cutting rates) would accentuate the liquidity conditions of property developers barring a few such as DLF.
"Most of the small and medium sized firms have already asked for restructuring of loans," he added.
Nitesh Shetty, chairman and managing director at Bengaluru-based Nitesh Estates, said one should reduce all costs when residential sales are slow.