A couple of days after he reaffirmed his commitment to philanthropy, Wipro chairman Azim Premji on Friday transferred shares worth about Rs 12,300 crore (Rs 123 billion) to his philanthropic arm, the Azim Premji Trust.
This is the largest philanthropic transfer by any individual in the country.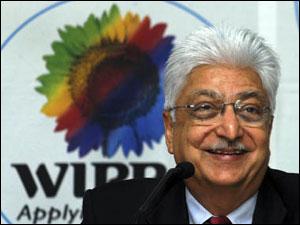 A statement issued on Friday by the foundation said the billionaire had transferred 295.5 million equity shares, representing 12 per cent of the shares of Wipro Ltd, to an irrevocable trust (the Azim Premji Trust) that finances the activities of the Azim Premji Foundation. These shares were held by entities controlled by Premji. With this, the trust's shareholding in Wipro will go up to about 19.93 per cent.
This is the second largest chunk of personal money that Premji is transferring for education and social welfare in the country. In 2010, he donated 8.7 per cent from his personal stockholding (valued around Rs 8,846 crore at that time) to philanthropy.
Premji's personal wealth is around $15 billion, based on his holdings in Wipro. He owns 78.29 per cent of the company. With the latest transfer of funds, the trust's shareholding in Wipro will go up to around 19.93 per cent.
"This is an extraordinary commitment," said Anurag Behar, vice-chancellor of Azim Premji University. "If you take it cumulatively, he (Premji) has transferred Rs 20,000-22,000 crore (Rs 200-220 billion) for philanthropic activities. The country needs more philanthropy. No country can change and improve only by depending on the government."
Earlier this week, in a letter to the Giving Pledge, formed by Warren Buffett and Microsoft founder Bill Gates, Premji expressed his commitment to philanthropy. The Wipro chairman is the only Indian in the Giving Pledge, which is a commitment by the world's wealthiest individuals to dedicate a big part of their wealth to philanthropy.
Premji, who was inspired by his mother, had in 2010 brought India's wealthiest together to discuss philanthropy, during Bill Gates' visit to Bangalore.
Premji had said in a recent statement: "I strongly believe that those of us who are privileged to have wealth should contribute significantly to try and create a better world for the millions who are far less privileged. I will continue to act on this belief."
The Azim Premji Foundation has worked largely in rural India with state governments to help improve quality and equity in school education. Currently, the foundation's work is spread across Karnataka, Uttarakhand, Rajasthan, Chhattisgarh, Puducherry, Andhra Pradesh, Bihar and Madhya Pradesh.
As part of scaling up of the institutional strategy, the number of district-level institutions will expand to 50-60 over four to five years, state-level institutions to six to eight and Premji University will expand to have 3,500 students with 350 faculty members across multiple programmes. The foundation will also have 50-100 demonstration schools associated with district-level institutions. In the next five years, Premji expects the foundation's headcount to grow from 800 people to 4,000-5,000 people.
"The developments of the past two years have given me confidence in our scaled up and institutional strategy," Premji had said. "Even as we execute the strategy, I am aware that ensuring a stable funding source is critical for its success. I am committed to transferring more of my wealth to scale up the endowment of the foundation."
With the growth of Indian corporate sector, many businessmen have expressed interest in using a part of their wealth to improve the conditions of fellow countrymen. In 2010, HCL founder Shiv Nadar had donated about Rs 580 crore by selling 2.5 per cent of his stake in the company, owned by him and his family, for the Shiv Nadar Foundation. Similarily, G M R Rao pledged Rs 1,540 crore as an endowment for the philanthropic activities of GMR Varalakshmi Foundation; Vineet Nayyar, MD of Tech Mahindra, donated around Rs 30 crore to the Essel Social Welfare Foundation, a Delhi-based organisation.