E-vehicles may face pollution hurdle with hazardous batteries. One lithium-ion battery has a potential to poison the whole water aquifer of Delhi.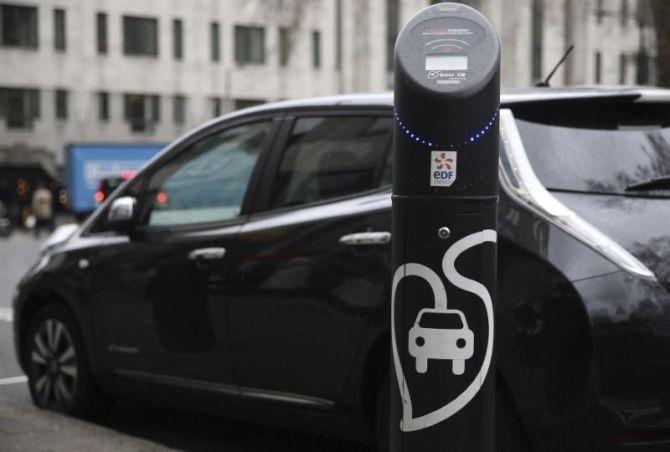 India's ambitious electric-vehicle plan could throw up challenges of environmental hazards if used batteries are not handled properly.
Currently, the country does not have regulations on scrapping of electric vehicle battery.
The automobile industry is moving towards the use of lithium-ion battery from lead-acid batteries to offer quicker charging and higher range.
"Lithium is not a product to be dealt with lightly. It requires proper handling," said R C Bhargava, chairman, Maruti Suzuki.
Maruti's parent firm Suzuki is setting up a Rs 11.51-billion lithium-ion battery unit with Toshiba and Denso in Gujarat.
Bhargava said the company's electric vehicle plans for the country required setting up a complete ecosystem, including appropriate treatment of end-of-life batteries.
Suzuki has partnered with Toyota to introduce electric vehicles in India.
Ashim Sharma, partner and group head (auto, engineering and logistics), Nomura Research Institute India, said lithium-ion battery recycling was hazardous because of the highly reactive nature of lithium ions.
"Proper rules and regulations need to be framed based on our temperature and humidity. Improper handling can be dangerous," he said.
Proper scrapping of batteries will not only alleviate possible environmental concerns but also act as an enabler to source locally the chemical elements of the batteries such as lithium, nickel, manganese, cobalt and titanium, thereby increasing the cost effectiveness of the supply chain.
Roland Folger, managing director (MD) and chief executive officer (CEO), Mercedes Benz, said everybody thought that somebody would take care of the used batteries.
"Since the electric vehicle programme is driven by environmental consciousness, my biggest amazement comes with the fact that not many people are talking about recycling.
"You can see guys on roadside with a chisel and hammer trying to recover lead acid batteries.
"If the acid from lead acid battery leaks into the groundwater it can be highly poisonous. One lithium-ion battery has a potential to poison the whole water aquifer of Delhi," Folger said.
Folger also said that using an electric vehicle during floods could be dangerous.
"We have had floods in Chennai and Mumbai recently. What will you do with your electric cars?
"Would you be comfortable sitting with huge batteries when water level is rising?" he asked.
Experts see a used battery from electric vehicles hold possibility of subsequent usage.
"We believe that the life of battery after its use in vehicles can be reused for static storage applications for an additional three-five years, thereby increasing its life cycle.
"Internationally, this has been the application expectations and Mahindra has similar plans," said Mahesh Babu, CEO, Mahindra Electric.
Mahindra has been the country's pioneers in electric vehicles.
Babu said the company had a recycling plan for all lithium-ion batteries used in cars.
"In fact, it is similar to the recycle procedure of the batteries used in mobile phones and other lithium-ion applications.
"We have a proper supplier who does the recycling of these batteries," he said.
A Society of Indian Manufacturers's white paper on electric vehicles suggested measures to incentivise recycling.
It said that the minimum requirement of materials to be recycled in batteries should be mandated and manufacturers should be encouraged to develop closed-loop mechanism for batteries ensuring minimum scrap.
Photograph: Neil Hall/Reuters