'I see a virtually zero impact on the sales of new vehicles with this move,' said an expert.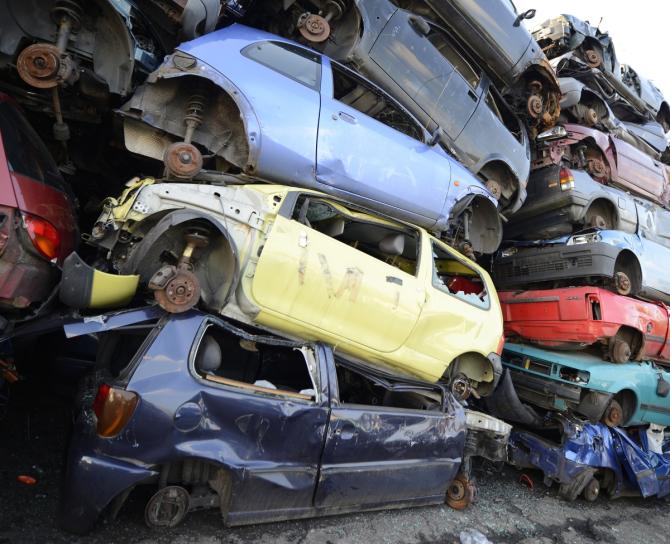 The scrapping incentive policy, announced by the ministry of road transport and highways (MoRTH) recently, won't have a meaningful impact on new vehicle sales, according to industry executives and transport experts.
They said the actual number of vehicles available for scrapping is almost a fourth of government-estimated volumes.
According to the MoRTH's estimates, India has 5.1 million light motor vehicles which are 20-year-old or older; those above 15-year-old are estimated at 3.4 million.
The ministry estimates the volume of M&HCVs (medium and heavy commercial vehicles) more than 15-year-old and without a valid fitness certificate to be 1.7 million.
The number of vehicles -- cars and commercial vehicles -- that meet the age criteria for scrapping is almost a fourth what is being estimated, said S P Singh, senior fellow at Indian Foundation of Transport Research & Training (IFTRT). "The numbers are highly inflated," he said.
Given that it's a voluntary policy, "manufacturers should not expect any bonanza out of it," he said.
Of four million commercial vehicles on Indian roads, half are M&HCVs.
M&HCVs (16 tonne and above) that are older than 12 years anyways do not get the national permit, and tippers and tractors get discarded within 10 years.
Therefore, manufacturers of these kinds of vehicles will hardly benefit from the policy, said a senior executive of a CV maker.
"Contrary to the estimates, the actual number available for scrapping is far less," he said.
Kamal Bali, president and MD of Volvo India, on the other hand, argued the policy can have a multiplier effect upstream and downstream, if implemented effectively.
He said customers can get a benefit of at least 15 per cent, provided a rebate in GST is given.
His calculation also took into consideration the upcycle in commodities and customers getting good value at scrapping centres.
"The condition of some of the end-of-life trucks is horrible in rural areas. A rebate of 5-6 per cent vehicle manufacturers will give; I expect a 2-3 per cent from a reduction in road tax from state governments, besides there is a potential chance of reduction in goods and services Tax plus there's a value the customer will earn from scrapping centre. If incentives are to the tune of 15 per cent, the customer can make a down payment with that. So, I expect a good response," Bali said.
Mahantesh Sabarad, head of research at SBICAP Securities, said the receipt of a tradable certificate to the person who is scrapping his/her vehicle is a good feature in the policy and should help people with limited means to discard their vehicle and purchase the best, which can be a pre-owned one, within their means.
However, Sabarad doesn't see the policy spurring demand for new vehicles. "I see a virtually zero impact on the sales of new vehicles with this move," he said.
Other analysts also do not see it boosting demand for new vehicles. "Given the timelines proposed and tad lower incentives than anticipated, we believe the benefits will be back-ended in nature," wrote Shashank Kanodia, analyst at ICICI Direct.
Feature Presentation: Rajesh Alva/Rediff.com