There is also lack of mandate from the government on adoption of electric mobility after ambitious talks of moving all new automobile sales to electric by 2030
Illustration: Uttam Ghosh/Rediff.com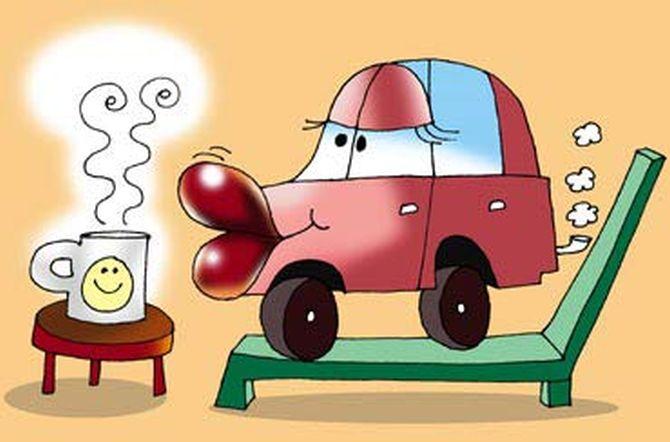 The grand electric mobility plans of cab aggregators Uber and Ola have taken a back seat with charging infrastructure remaining a bottleneck.
The government has also failed to issue a mandate on the adoption of electric mobility after its ambitious talks of a full-fledged shift to electric vehicles (EVs) by 2030.
Over the past one month, the government has dropped plans of introducing an EV policy and has started work on an automobile policy that does not specify any EV targets.
Global taxi aggregator Uber partnered Mahindra & Mahindra (M&M) in November last year to deploy 'hundreds of EVs in Delhi and Hyderabad' beginning February this year.
Both the companies will also explore introducing EVs in other cities.
M&M was supposed to supply its e20Plus hatchback and eVerito sedan to Uber but the taxi aggregator is yet to introduce electric cars on its platform.
According to sources, M&M has not supplied any EVs to Uber yet.
The automaker declined to comment on a questionnaire regarding its partnership with Uber and Ola.
Uber said there were bottlenecks in introducing EVs.
"We are excited about the potential for EVs that will benefit drivers, riders, and cities.
"However, from a ride-sharing application perspective, we have to first remove certain roadblocks in terms of infrastructure requirements," said a company spokesperson in response to queries.
The company said it would take more time to roll out electric cars on its booking platform.
Home-grown cab hailing firm Ola had rolled out a fleet of 200 EVs in May 2016 in Nagpur and had invested Rs 50 crore.
The fleet comprised 100 e20 Plus from M&M and vehicles from companies such as Tata Motors and TVS.
The company had also set up charging stations in the city.
However, a news report early this week said only 83 e-vehicles were registered in Ola's name, citing data from the Regional Transport Office at Nagpur.
The city also happens to be the constituency of Union Transport Minister Nitin Gadkari and Ola's multi-modal EV programme was launched in his presence.
M&M's electric cars running on Ola's platform have a range of 110-120 km on a full charge; ideally it should have been 140-150 km for a city like Nagpur.
Drivers need to charge during the day, which affects business. A full charge takes as long as 90 minutes.
"Today, Ola will require a partial fast charge during the day.
"Ideally, the EVs should not require fast charging during the day. A driver can charge the vehicle at night, run it the next day and again charge it at night," Pawan Goenka, managing director at M&M, said last month.
A Reuters report recently said over a dozen EV drivers of Ola in Nagpur had either switched or were planning to switch to diesel.
Ola, while claiming the Nagpur experiment has been a great learning experience and has brought 'tremendous benefits' to driver partners, is silent on the roll-out of e-mobility in other cities that are bigger markets and have pressing concerns around pollution.
"As the EV initiative inches close to completing a year since its launch, we are looking forward to using the learning gathered to expand the scope and scale of our electric mobility initiatives.
"With our continued partnerships with the government and various stakeholders in the EV ecosystem, we are confident that we will play a huge role in building a better society through sustainable mobility for all," an Ola spokesperson said.