Initially it will procure only e-rickshaws and e-autos for leasing to operators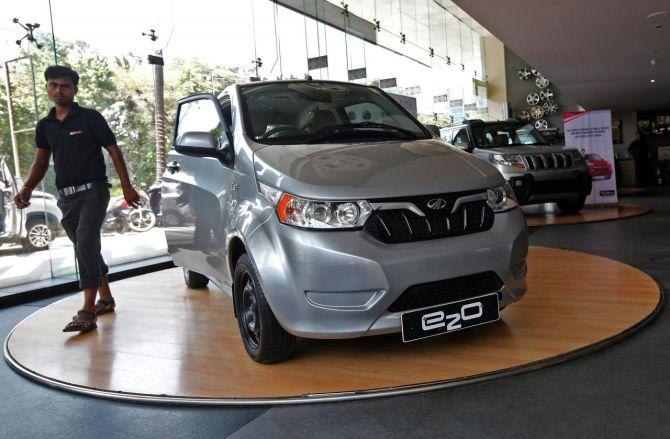 The government is entering a business of owning and leasing electric vehicles in a bid to widen usage among aggregators like Ola and Uber and other fleet operators and reduce environmental pollution.
Energy Efficiency Services Ltd or EESL, a joint venture of four government-owned power companies, NTPC, Powergrid, PFC and REC, will be spearheading this business.
Initially, EESL will procure only e-rickshaws and e-autos to lease them to operators.
EESL has aggressive plans here as an operator has to lease a minimum of 10,000 e-rickshaws or e-autos.
A higher volume can lead to better leasing terms and conditions.
EESL, which was instrumental in significantly bringing down prices of energy-efficient LED bulbs in the country, wants to repeat the success in electric vehicles.
"Vehicles are a completely different business from bulbs. But a beginning has to be made.
We hope this will encourage more manufacturers to produced electric vehicles. Operators like Ola and Uber may find interest in leasing them," said Saurabh Kumar, managing director at EESL.
Leasing model will enable aggregators to have an asset-light business requiring less investment. Uber currently does not offer three-wheeler mobility services but Ola and others like Jugnoo have three-wheelers on their platforms.
EESL shall be supporting the government's Electric Mobility Mission to scale up electric vehicles (EVs) in India through bulk aggregating demands of EVs, procuring best quality products and services at lowest prices from the manufacturers and leasing vehicles to the aggregators (or EV operators).
The government has drawn an ambitious plan to have an all electric-car fleet in the country.
Accordingly, under the GST (goods and services tax) regime, a low tax rate of 12 per cent is being levied on EVs against minimum 29 per cent for small petrol cars.
Since the local manufacturing base for EVs is limited, EESL plans to procure vehicles through a tender process where global players can also participate.
Domestic companies like Hero Electric and Kinetic manufacture the kind of vehicles EESL is looking to procure.
Mahindra and Mahindra, which currently makes electric cars, has plans to manufacture electric three-wheelers.
EESL also plans to procure 10,000 electric cars for use by government departments and public sector companies.
In the first phase, it aims to buy 1,000 such cars. These cars will be owned by EESL and will be leased to government departments.
EESL could end up spending about Rs 1,200 crore (Rs 12 billion) for these cars.
Kumar said that departments can bring their current leasing costs by at least 10 per cent while promoting electric mobility.
"We start with the offices and departments of the ministries of power, coal, mines and new and renewable energy. Once we see a success here, cars will be procured for other ministries and departments," said Kumar.
Photograph: Shailesh Andrade/Reuters