In India, Ola is now in direct competition with electric two-wheeler makers, such as Ather Energy, Hero Electric, Bajaj's Chetak, and TVS Motor Company.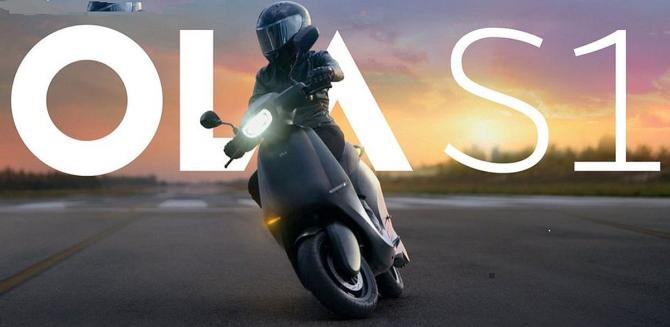 SoftBank-backed Ola Electric took the wraps off its maiden e-scooter offerings -- Ola S1 and S1 Pro -- for a commercial launch on Sunday.
With prices starting from Rs 99,999 (excluding state government incentives, registration fee, and insurance cost), the Bhavesh Aggarwal-founded firm said the e-scooters are designed and engineered in India for the world and will deliver the best scooter experience to the consumer.
He suggested that after 2025, sale of petrol-powered two-wheelers should not be allowed.
"It will be the best scooter ever made, not just the best electric scooter," said Aggarwal, chairman and group CEO, Ola, during a roundtable at the Ola Electric campus in Bengaluru.
"We have to make technology which is the best in the world and that's what we're doing. We've been saying we'll build our own technology.
"We built our own technology. All of this has been done by Indian teams based here in this office, and it's world-leading."
With pricing that undercuts competition -- internal combustion engine (ICE) powered scooters and e-scooters and a promise of delivering an e-scooter that claims superiority over rivals, Aggarwal gave a clarion call to "reject petrol and commit to electrification".
According to him, the scale of pollution by the traditional automotive industry is very high and electrification is the only sustainable solution.
He said electric vehicles are much more efficient and sustainable than gasoline vehicles.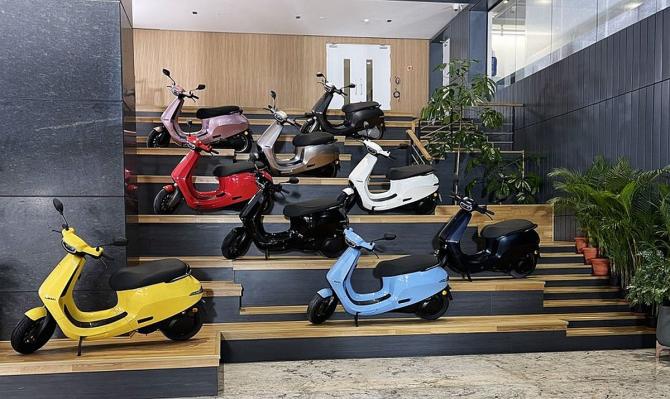 In terms of the total cost of ownership (TCO), Aggarwal said the vehicle will be 40 per cent lower than the petrol vehicle in a 4-5 year cycle.
"The only true solution for us is to genuinely completely reject petrol and commit to electrification," he said, often interrupting himself to ask "What do you think?" He said after 2025, "no petrol two-wheeler should be sold in India and it is possible to make this transition to sustainability in four years."
In India, Ola is now in direct competition with electric two-wheeler makers, such as Ather Energy, Hero Electric, Bajaj's Chetak, and TVS Motor Company.
Ola has the S1 (Rs 99,999) and S1 Pro (Rs 1,29,999) electric scooter models – the S1 Pro has 3.97 kWh (kilowatt-hour) battery packs, which, according to the company, have enough power for a range of 181 km in a single charge.
The S1 and S1 Pro are likely to be available for purchase from September.
With aggressive pricing that undercuts the products offered by the competition and superior products, coupled with the charging infrastructure that Ola is creating, Ola Electric is set to disrupt the world's largest two-wheeler market, said analysts.
"Ola is priced aggressively at par with the gasoline Activa and undercuts its EV rivals," Aditya Makharia, analyst at HDFC Securities, wrote in a research report.
With a starting price of Rs 85,000 in Delhi, the Ola electric scooter is cheaper than the TVS iQube (Rs 101,000), Bajaj Chetak (Rs 142,000) and the Ather 450 (starting at Rs 1,13,000).
Ex-showroom Delhi prices for ICE scooter Honda Activa 6G ranges between Rs 69,080 and Rs 72,325, while the more-powerful Activa 125 costs Rs 72,637-79,760.
"Thus, the pricing of the OLA is extremely competitive," said Makharia.
It's superior to rivals even in terms of product specifications, he wrote.
"With a 2.9kwh battery (the best in class) and peak output, this is 40 per cent more than the Ather.
"A driving range in excess of 100 km for its S1 base model addresses the range anxiety (121 km range on a single charge).
"The battery has a capacity of 2.9kwH (among the highest in EVs) for the base variant and 3.9kwH for the S1 Pro (30 per cent higher than the Ather)."
The launch comes days after Tesla CEO Elon Musk expressed hopes that the Indian government would slash tax on imported electric cars.
Earlier, Aggarwal had said he was not in favour of the government paring duty on imported electric vehicles and his comment went viral.
But Aggarwal, on Saturday, said that many people misinterpreted his comment that his firm didn't want any competition.
"I welcome that gentleman to India. Competition is good," said Aggarwal.
According to him, companies whether Indian or international, should invest in the country.
"Many people misinterpreted my comment that 'we don't want the competition.
"Nothing like that. We welcome competition and we will beat the competition, whether it is Indian or global."
Ola Electric had also revealed its plans to set up the world's largest electric two-wheeler charging network.
The Ola Hypercharger Network is likely to be the widest and densest electric two-wheeler charging network in the world, with more than 100,000 charging points across 400 cities.
Besides large cities, it is also witnessing huge demand from small towns and cities for its scooter.
Chasing the mission of a faster adoption to e-mobility, Ola had announced in December 2020 that it would be investing Rs 2,400 crore for setting up phase 1 of the factory.
The Ola Futurefactory is coming up on a 500-acre site in Tamil Nadu.
At full capacity of 10 million vehicles annually, it would be the world's largest two-wheeler factory and would handle 15 per cent of the world capacity.
It would have an initial capacity of 2 million units a year in Phase 1 and also serve as the company's global manufacturing hub for its range of electric-powered scooters and two-wheelers across India and international markets, including EU nations, the UK, Latin America, Asia-Pacific, Australia, and New Zealand.
Photographs: Courtesy Ola Electric