Just a few weeks ago, the Centre has come out with the long-awaited Motor Vehicle Aggregator Guidelines, which have drawn a dismayed response from the companies concerned.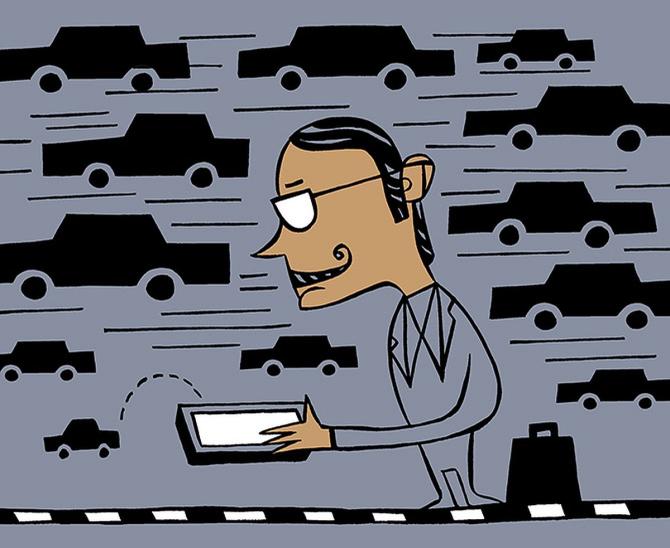 Uber and Ola cabs may soon be zipping past in your city with a "TAXI" sign flashing on their roofs, just like the legendary yellow cabs on New York streets.
The reason: Just a few weeks ago, the Centre has come out with the long-awaited Motor Vehicle Aggregator Guidelines, which have drawn a dismayed response from the companies concerned.
While these are guidelines, and not mandatory, they will have to be implemented by each state according to their own requirements.
"The guidelines, if implemented, will make the business difficult to sustain or put in further investments. Imagine how little those who drafted know about our business," says a worried senior executive of one of the leading aggregators.
For instance, he points out, the mandatory TAXI sign is meant for hailing a cab from the street, "whereas our business model has made it possible to get the cab through technology at your doorstep or any other location without hailing.
"Such a system does not exist anywhere in the world for aggregator vehicles but only for city taxis."
More than this, however, the new guidelines hit at the core of their business model by capping two crucial elements that determine revenues — commission and surge pricing.
Aggregators will now be allowed to charge up to 20 per cent on the fare as their commission from drivers.
And the surge price has a mandated upper limit of 1.5X over the base fare.
It has also mandated new safety and training requirements for drivers as well as a social security net for gig workers.
The key bone of contention is the cap on commission.
Most aggregators do charge 20 per cent, though it is not mandated by any law.
And considering the fact there was an earlier move to cap it at 10 per cent, which would have killed the industry, the guideline has accepted the status quo.
But the industry wants flexibility because around 13 per cent of that 20 per cent revenue is spent on technology, services, fixed infrastructure, safety and training and does not even include incentives to drivers and riders (which is increasingly falling).
Then aggregators have to earmark 2 per cent for drivers under the new social security code.
So to reach global average margins in this business, which are wafer thin at 5 per cent, aggregators say they require a 22-23 per cent.
Also, globally no other country has government-fixed caps on commission.
Based on demand and supply, they vary between 25 and 30 per cent across global markets. India is among the lowest.
Opinion is divided among aggregators on this.
Some say the caps are fine, but should be accompanied by a mechanism to review them regularly.
For others, it is a more fundamental issue: Why should their revenues be controlled by government diktat, they ask.
"Are we asking hotel aggregators to fix their margins, or airlines or the railways?" says one of them.
Government officials say unlike hotels, car aggregators are an intrinsic part of the public transportation system where affordability and safety are key responsibilities for the government.
But aggregators see themselves not as a city taxi service but as an alternative to those who have or are planning to go in for private transportation.
As for the surge price issue, aggregators say they apply on roughly one out of six trips across the country (that is, in normal situations, not during the pandemic).
It could be higher in cities like Bengaluru where the ratio is 1:3 because minimum and maximum fare (Rs 24 a kilometre) is capped by local rules.
Data shows that the maximum surge price in peak times in India could go up to 3X, but that would account for no more than 1-2 per cent of all rides.
That, aggregators say, is still far lower than global numbers — as high as 4X or 5X in Latin America and the US.
"What we are asking is that the surge price should have a range between 1.5 and 2.5X so that we have flexibility.
"It's not about our revenues; if we don't increase price, customers will not find enough cars during peak time because drivers will not find it financially attractive to move to these areas.
"It is the only way to ensure that demand matches supply; it's not about making more money," says the technology head of an aggregator company.
There are other concerns too: For instance, the guidelines permit states to mandate that aggregators charge 2 per cent over and above the fare to be used for driver welfare activity, training and reducing pollution.
Aggregators say this will further dent their commission, and shows that one arm of the government does not know what the other is doing.
After all, under the social security code for gig workers, which the labour ministry announced recently, aggregators will contribute 1-2 per cent of their revenue to a fund set up by the government.
The new guidelines duplicate that effort and force them to pay twice for a safety net for drivers.
Secondly, what seems even more bizarre, to ensure safety, the regulation says drivers cannot log in for more than 12 hours a day, with a break after 10 hours.
And aggregators (like Ola and Uber) are required to develop a system for a driver working for both of them to ensure that they do not break the hourly cap.
Aggregators say there is no question of them sharing competitive information with their rivals.
Also, they say, there is no mechanism to check whether a driver is offline after 10 hours.
Plus, they ask, why should drivers of aggregator services be subject to such a "non-level playing field", which excludes fleet owners and city cab services.
There is, however, one good change in the guidelines and that is permitting non-commercial vehicles to join the aggregator pool, which could bring in another 30 million non-commercial vehicles into the system.
Many states say this would be suicidal to implement.
A senior official of a state government that has regulations for aggregators in place says: "This is against local city taxi driver unions' interest who will challenge it for creating a non-level playing field, especially as they pay more insurance, road tax and others imposts for their commercial vehicles, which non-commercial passenger vehicles do not pay."
For aggregators, the challenge is to engage with the various states with varying rules for the next round of action.