Retail sales of automobiles in the domestic market saw a 7.73 per cent year-on-year decline in October this year at 21,17,596 units, mainly due to dip in two-wheeler uptake with the inauspicious period of Shraddh affecting new purchases, the Federation of Automobile Dealers Associations (FADA) said on Monday.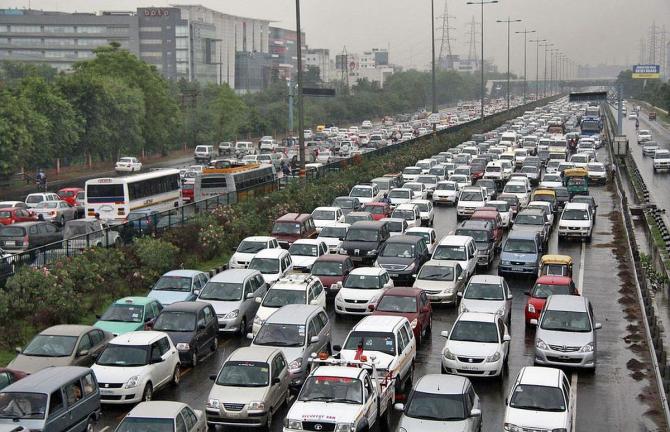 Retail sales of automobiles in the domestic market stood at 22,95,099 units in October 2022, FADA said in a statement.
Two-wheeler retail sales were at 15,07,756 units last month, as against 17,25,043 units in the year-ago period, down 12.60 per cent, as per the latest data by FADA.
Similarly, passenger vehicle (PV) retail also declined by 1.35 per cent at 3,53,990 last month, as compared to 3,58,884 units in October 2022.
On the other hand, three-wheeler sales were up 45.63 per cent at 1,04,711 units, as compared to 71,903 units in the year-ago month.
Tractor retail sales also grew by 6.15 per cent at 62,440 units, as against 58,823 units in October 2022.
Commercial vehicles retail sales increased 10.26 per cent in October this year at 88,699 units, as compared to 80,446 units in the year-ago month.
"The month commenced under the shadow of the inauspicious Shraddh period, until October 14.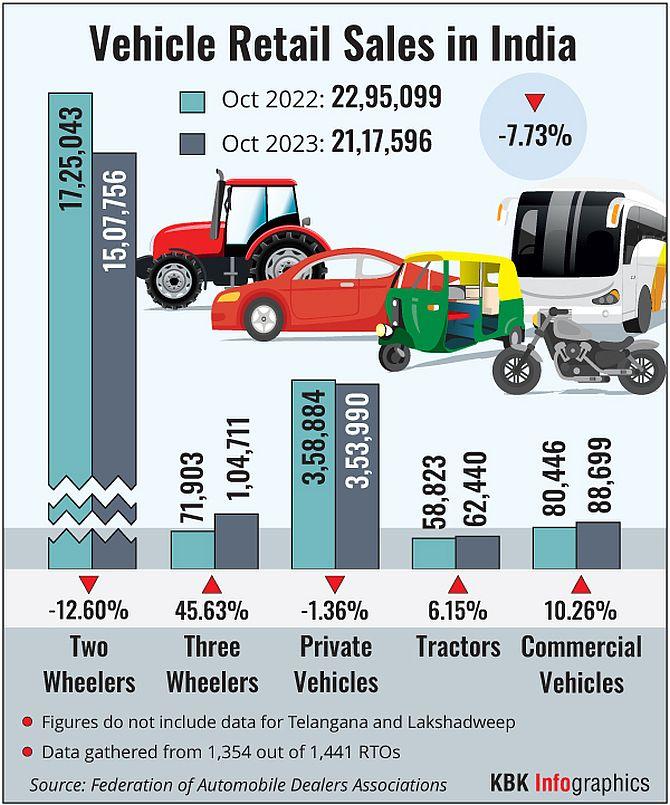 "Consequently, a YoY comparison may not accurately reflect the actual trajectory of growth in the Indian Auto Retail sector," FADA president Manish Raj Singhania said.
As per FADA data, the first half of October, marked by the Shraddh period, saw an 8 per cent year-on-year decline but a month-on-month comparison revealed a 13 per cent growth "indicative of resilient market demand".
With ongoing festivities, all automotive categories experienced momentum, FADA said.
"Navratri of 2023, marked a milestone with retail sales soaring by 18 per cent year-over-year, surpassing the figures of Navratri 2017.
"Except for tractors, which saw an 8 per cent decline, all categories exhibited commendable growth," Singhania said.
Two-wheelers, three-wheelers, commercial vehicles, and passenger vehicles experienced increases of 22 per cent, 43 per cent, 9 per cent, and 7 per cent, respectively during Navratri, he added.
Singhania further said the two-wheeler category during the Navratri period and throughout October saw several positive trends, buoyed by festive cheer and stronger rural demand.
The passenger vehicles segment navigated a complex landscape, marked by both enthusiasm and caution, he said, adding, "during Navratri, despite regional variability, the industry witnessed a surge in bookings" buoyed by the introduction of new models, particularly SUVs and the availability of attractive consumer offers.
"However, the impact of local elections and market saturation meant that the festive spirit didn't translate uniformly into sales across all regions," he added.
The three-wheeler segment continued the uptick in demand during Navratri, largely driven by competitive finance options and a significant rise in e-Rickshaw interest, signalling a healthy move towards electrification, Singhania said.
Throughout October, Singhania said, "The anticipation for Diwali in November and the launch of new models generated a steady demand.
"The period overall saw a resilient PV market, supported by a stronger product line-up unlike last year, when stock availability was a major issue."
On the outlook, FADA said, "The near-term outlook for the auto sector is a blend of highs and lows as we approach year-end."
Festivities along with harvest season, especially paddy, are expected to boost two-wheeler sales, with optimism fuelled by new schemes and a push towards electrification, despite supply concerns, it added.
Commercial vehicle segment is looking at a strong November, with festive and construction activities enhancing demand, alongside anticipated financial schemes, FADA said.
"However, the PV segment is navigating through a tricky phase.
"Festive days might spike bookings, yet the shadow of year-end discounts looms over immediate sales," FADA said.
High inventory levels in PVs, at a critical 63-66 days range, demand urgent attention from OEMs, it said, adding, "Without substantial interventions and if Diwali sales don't rise to the occasion, the weight of unsold stock could lead to significant dealer distress."
It could lead to industry-wide repercussions, FADA said, asserting "Immediate and decisive action is imperative to counter the risk of a financial squeeze as the year closes."