The MG Motor India management is focused on scaling up and launching smaller cars to play the long game in the country, says Pavan Lall.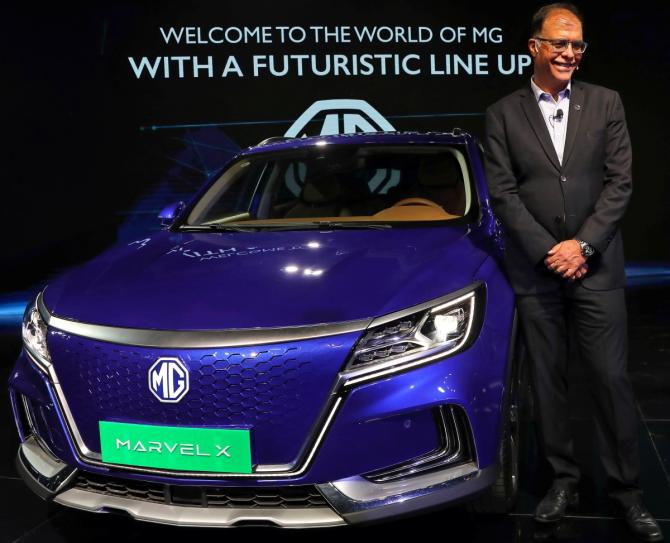 With barely three car models in two short years, Morris Garages (MG), which names its cars after British aircraft, has managed to carve out a brand identity and make an impact in the Indian market.
Now, its management is focused on scaling up and launching smaller cars to play the long game here.
MG has invested around Rs 3,000 crore in the country with an additional Rs 1,500 crore earmarked for this year, Rajeev Chaba, MG India's managing director, said.
The company has 2,500 employees with a high ratio of women employees at 35 per cent that extends to the factory floor.
The company has appointed six dealer partners with close to 225 touchpoints that are expected to grow to 300 workshops and showrooms.
"No MG owner should have to drive more than 30 minutes to find a workshop in the next one year," Chaba says.
So far, MG, which is owned by China's SAIC Motors and which bought out General Motors' Chevrolet plant in Halol, has been on a steady path of drumming up one variant after the other for launch in the market here, even while setting itself up as a technology-first consumer brand aimed squarely at younger digital native buyers.
Chaba notes that "the entry strategy will go top-down here on, so the next car will be the smaller 4.3 metre SUV that will compete with mid-segment SUVs" such as the Hyundai Creta, Kia Seltos and the recently launched Skoda Kushaq.
After that it will go to sub-four metre cars. The SUV will be launched in a few weeks and the small car some time next year.
The small car will take the Halol plant's capacity beyond the current 75,000 cars a year and test its maximum capacity at 100,000 units in two years, Chaba adds.
To expand capacity further, the company has been in talks with other original equipment manufacturers (OEMs) for contract manufacturing.
Once the international scene settles down, expect more capital to be pumped into the country by MG, says Suraj Ghosh, associate director, powertrain and compliance forecasts, IHS Markit.
Of course, all of MG's efforts will hinge on markets improving, given the spectre of a third wave of Covid-19.
Plus, even as demand picks up, the global chip shortage remains a deterrent.
MG received over 4,000 bookings for the Hector in July, and has a backlog of over 8,000 cars in August because of this, Chaba says.
What's worked for MG so far in the cluttered Indian market? Mumbai-based entrepreneur Raja Dhody, who bought a Hector Plus in January, went for its sharp design at first.
"Then I test drove it and found it to be on a par with anything else I have," says Dhody, who also has a BMW and has owned Mercedes-Benzes in the past.
"You can start the car with your phone and the AC comes on before you step inside and is activated by voice control. Everything is perfect except the engine is a little sluggish on slight inclines. If that can be improved, there would be very little gap between it and the European auto badges."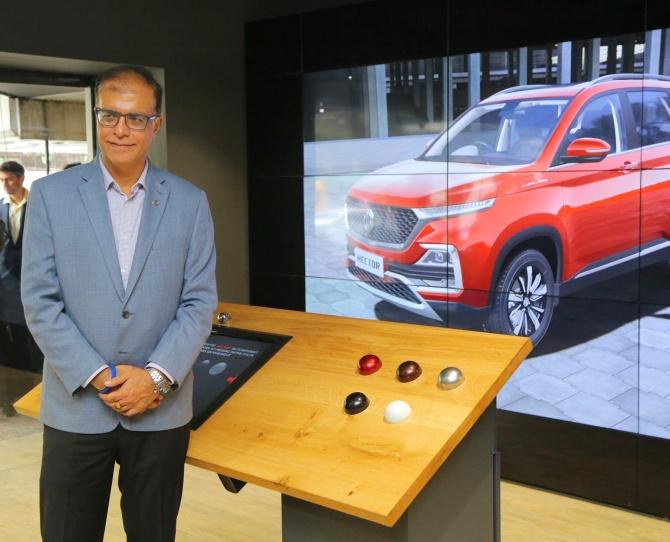 Of course, MG's cars still have to pass the test of time to see how their residual value performs after a few years of wear and tear, versus others in the aftermarket scene, say analysts.
MG has sold over 60,000 units of the Hector, which was launched in June 2019, averaging between 1,500 and 2,000 units a month.
The Tata Harrier, which was launched in July 2019, sells over 1,000 cars a month.
Frost & Sullivan's Vice President for Mobility Kaushik Madhavan says MG has been successful so far, by and large.
"Its product portfolio zoomed in on the popular SUV segment, which was the right thing to do," he says.
"The second thing was that its emphasis on internet connectivity and subscription services, which no other OEM had done, has been a gamble that paid off."
When Hector was launched, the company called it the Internet Car.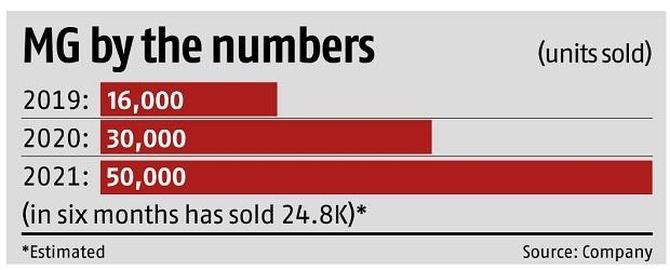 The third thing, Madhavan says, was to bring an electric vehicle model into the market when others were coin-tossing on EVs.
MG brought in its first pure EV, the ZS EV, in 2020 and has so far sold 1,000 units.
To push the pedal on sales, the company will have to follow in Kia's footsteps, given that the Korean automaker has already sold around 300,000 cars in just two years with three models alone.
Experts say MG Motors would have to reach 100,000 units a year in sales fairly soon if it is to play the volume game successfully in India.
Much, as always, depends on price. "We are focusing on localisation.
"The Hector ranges between 50 and 70 per cent," according to Chaba.
One factor that has played well so far is MG's cost of ownership.
According to research by Frost & Sullivan, for spends among comparative SUVs, MG scored well on certain metrics.
For periodic maintenance spend, average costs were lowest at Rs 11,117 versus a high of Rs 29,000; for general repairs, MG's cost was lowest at Rs 295 versus a high of Rs 8,022; and for alignment and balancing, they were somewhere in the middle with a cost of Rs 2,000 versus a high of Rs 4,000.
Despite its rich pedigreed British history, MG has been an unknown brand in the Indian market, which makes its journey so far both commendable but also one to watch closely in a market that remains acutely price conscious.
Feature Presentation: Rajesh Alva/Rediff.com