The domestic car sales volume of the company is also growing at 15%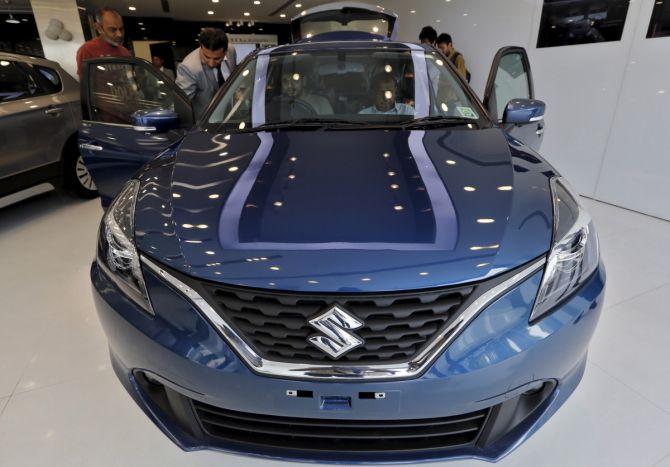 The coffers of the country's biggest carmaker, Maruti Suzuki, are growing at a quicker pace than its vehicle sales, thanks to a surge in profits.
The Suzuki-promoted company has seen its cash reserves swell by a sharp 28 per cent over the past one year to Rs 30,500 crore and it continues to grow bigger.
The cash reserve has more than doubled over the past two years from Rs 13,000 crore.
The domestic car sales volume of the company is also growing at 15 per cent.
The current reserve of Rs 30,500 crore is significant as it is more than four times of Rs 7,337 crore earned in profits during the year ended March 31, 2017.
It is also slightly more than one-tenth of the firm's current market cap of Rs 2,93,025 (based on Friday's closing).
It is interesting that the company's cash reserves continue to expand significantly in spite of a more than 100 per cent increase in dividends for FY17 at Rs 2,265 crore and a capex of Rs 3,200 crore.
The company is spending Rs 4,000 crore in capex in the current year.
A company spokesperson has said the capex is going towards developing a new model, expanding marketing network and maintenance of existing plants and facilities.
The cash, invested in various financial assets, is helping the company's profitability as well.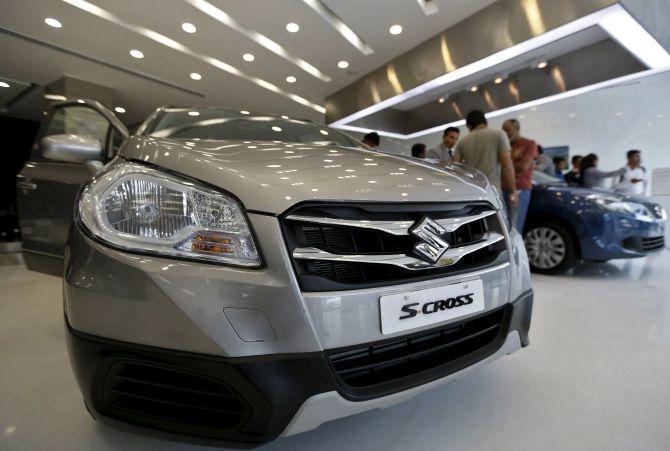 It earned Rs 2,280 crore as other income during FY17, when the profit was Rs 7,337 crore (up 37 per cent Y-o-Y).
The spokesperson, however, has said cash reserve-driven treasury income is only a small component (of profit) that reflects in other income.
"Profitability is a function of several factors such as input costs, manufacturing costs, fluctuations in currency and so on.
"In our view, profitability should come from the core business," the spokesperson said.
The Maruti Suzuki management was criticised for not investing in the car-manufacturing unit in Gujarat that became operational early this year.
The entire investments of Rs 13,400 crore for this plant came from Suzuki.
The Japanese firm is also investing Rs 1,150 crore, with Toshiba and Denso, to establish a lithium ion battery unit that will feed into Maruti's electric vehicle ambitions.
Suzuki is selling cars to Maruti at cost price and the latter is using its sales network to retail them.
This strategy was earlier criticised by proxy advisory firm IiAS, which claimed that excess liquidity in the form of an investment portfolio is detrimental to shareholders' interest, as Maruti's portfolio has generated lower returns than the return on capital employed.
The company's management, however, defended its decision. It said it needed to preserve cash to invest in R&D, product development and sales/service infrastructure.
Two years ago, chairman R C Bhargava said the company would have to invest Rs 15,000 crore by 2020 in doubling sales/service infrastructure and that's why it was necessary to hold cash. The cash reserve was Rs 13,000 crore then.
When asked about the areas where the huge and growing reserve of Rs 30,500 crore would be invested, the spokesperson said the money would be invested in developing new models, new technologies, R&D and marketing/sales network.
"We have set up a realty vertical to acquire land parcels which strengthen the network expansion objective.
"Cash reserves are benefits of good business practices accumulated over a period."
Maruti also leads the pack among automakers in terms of cash holding.
Pune-headquartered two-wheeler-maker Bajaj Auto had Rs 12,699 crore in cash/cash equivalent as on September 30, about 11 per cent more than a year ago.
M&M had Rs 5,663 crore against Rs 5,295 crore a year ago while Royal Enfield-manufacturer Eicher Motors had Rs 4,000 crore against Rs 2,945 crore.
Photographs: Amit Dave/Reuters